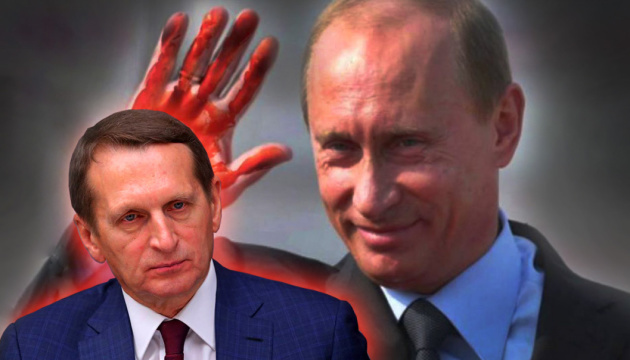 Russian President Sergey Naryshkin, or child of warring Russian secret services
Both Kyiv and Moscow should most probably expect small and inevitable flocks of "black swans"
The year 2021 that has finally come proves that even such horrors as we all experienced in 2020 can't last forever and will one day become a thing of the past. The same applies to Vladimir Putin's presidential tenure in Russia. That's even despite the latest changes to the constitution that allow him to remain in office for as long as he wishes. But the question is, what does he really want?
For his part, Putin, in his interviews, hinted at the purpose of alpha-dominating the Russian nation into supporting Constitutional amendments at a referendum was aimed at proving to his allies and foes that "Big daddy is still in the house" (that's what Viktor Yanukovych's allies were saying shortly before his escape to Rostov).
Putin's personal experience of transferring power to Dmitry Medvedev in 2008 suggests that one to three years prior to the election of a successor, people from the president's entourage start sniffing around for a strategy that would be most suitable to get closer to the new leader in the upcoming power configuration. These efforts bring in chaos and destabilization. That is why, as Putin puts it, "let them work," being aware that there's every reason not to expect Putin to step down anytime soon.
However, the debate over Putin's successor is still ongoing, becoming increasingly aggressive and dynamic. On New Year's eve, Russian media massively circulated a quote by the leader of the Parliamentary party Vladimir Zhirinovsky, whose nonsense usually gets little attention. During a routine panel show on Russia 1 TV channel, Zhirinovsky suggested a list of contenders for the Russian "throne." Among others, he named Foreign Intelligence Service Director Sergey Yevgenyevich Naryshkin.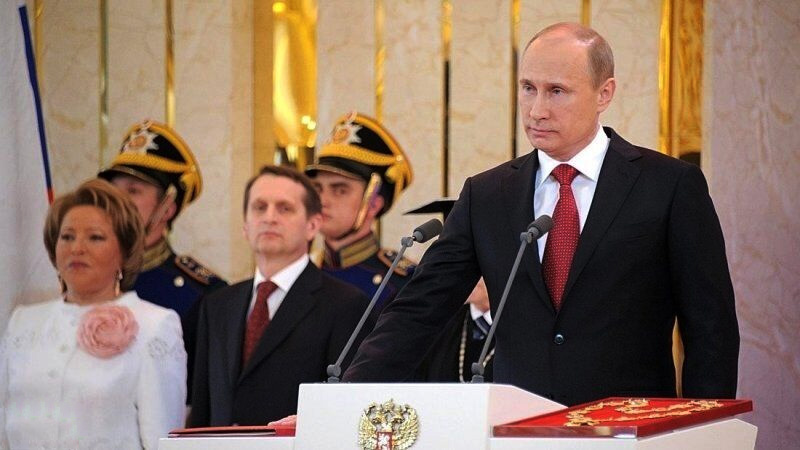 WHO IS MR. NARYSHKIN?
Sergey Yevhenievych Naryshkin was born in Leningrad in 1954. Two years later than Putin. They were even born in one month - in October. Sergey's parents, Yevheniy Mykhailovych and Zoya Nikolaevna, lived in Fontanka. Little Sergey went first to the school on Mokhova Street, and then to the 190th school with an artistic and aesthetic orientation, which was located right next to the house where the family lived. Sergey was passionate about sports. He played a little guitar. Received a gold medal…
In 1973 he enrolled at the Leningrad Mechanical Institute to become a radio engineer, where he was spotted as a promising young man by plain-cloth security operatives with the local KGB station. Among other things, Naryshkin headed the institute's Komsomol organization, so he most probably had to do a bit of snitching on his fellow students.
At the institute, he met Tatiana Yakubchik, a Belarus native who studied in the same class. After graduating, the two got married and later had two kids, Andrey and Veronika. At the moment, they also have two grandchildren.
The Leningrad Mechanical Institute, better known as Voenmekh, (its current official name is the Baltic State Technical University Voenmekh), was engaged, among other things, in rocket and space technology. This actually explains the KGB people lurking around looking closely into the students there.
Having received solid recommendations, Naryshkin in 1978 was invited to join the "French" group of the KGB Higher School's 8th faculty in Leningrad. He studied there together with Nikolay Tokarev, who is the head of state company "Transneft" now.
After the completion of the KGB faculty, Naryshkin passed a two-year course at "School 101" run by Soviet intelligence - KGB's First Main Directorate (previously named after Andropov and now called the Academy of Foreign Intelligence of the Russian Federation).
Rumors had it that the faculty were practically demigods at teaching. From all over the Soviet Union, (including from Ukraine) the most brilliant men and women were hired, excelling in foreign languages, human psychology, spy art, and so on. Undoubtedly, it was one of the best educational facilities in the country that trained young people set to become part of the top elite. Putin and Naryshkin studied together at the 1st faculty and lived in the neighbouring dormitory rooms шт 184-1985.
Each freshman was assigned a special schooling name that started from the first letter of the real second name. Naryshkin's code name was "Naumov", while Putin, who studied a few years later, had a code name "Platov".
After training at the Andropov School, Naryshkin was first deployed for a couple of years to get used to his new spy status as an undercover operative formally occupying the post of Assistant Vice-Rector for Foreign Relations at Leningrad Polytechnic. After that, he was granted a diplomatic cover in the office of the economic adviser at the Soviet Embassy in Belgium. In fact, for almost the entire period of Gorbachev's Perestroika, up until the collapse of the Soviet Union, Naryshkin has remained part of the KGB's First Main Directorate, working on foreign soil.
After returning to Leningrad, which by that time had been renamed into St. Petersburg, Naryshkin was hired by a local City Hall led by Mayor Anatoly Sobchak. Putin was also working there at the time. It might as well be the case that while passing through turbulent times, the KGB in this way tried to find sweet undercover spots for their operatives in civilian agencies.
That is, while remaining officers on active duty with the KGB, Putin and Naryshkin were provided an opportunity to secure front posts as experts in foreign relations and economic development at the St. Petersburg City Hall. Naryshkin was formally subordinate to Alexei Kudrin, who is now often rumored to take the prime minister's chair due to his alleged ability to "successfully negotiate with the West."
Since those days, Naryshkin and Putin have been pretty much inseparable. By the time a massive campaign was launched in 1995 aimed to compromise Mayor Sobchak, Naryshkin had already worked as head of the foreign investment department at the Industrial and Construction Bank of St. Petersburg (Promstroybank). Promstroybank was intensively exploited by the Tambov mob led by Putin's partner Vladimir Kumarin (aka Barsukov) in their commercial schemes and money laundering.
Throughout the second half of the 1990s, Naryshkin has remained part of the St. Petersburg City Hall, working in various positions related to the economy, foreign relations, and investment. At the same time, he was a member of the board at Philip Morris Izhora. The position was probably offered to him in exchange for covering the business from attacks on the part of authorities and establishing cooperation with the mayor's office.
In February 2004, Naryshkin was appointed Deputy Head of the Economic Department at the Presidential Administration. A month into his hiring, he was promoted to become Deputy Chief of Staff at the Russian Government.
In March 2004, Dmitry Kozak, a former GRU military intelligence operative, who is now the deputy head of the Russian Presidential Administration and Russia's representative in talks on Russia backed Donbas, was appointed Chief of Office and his immediate boss.
According to some experts and Russian Telegram channels, a very close connection has remained between Kozak and Naryshkin, in particular on issues concerning Belarus, Ukraine, and Moldova.
In September 2004, Naryshkin was promoted to chief of staff (to replace Kozak) and minister. In 2007, he became Deputy Prime Minister, retaining his position as Chief of Staff. This means that, in fact, he has been sifting through all paperwork on the Russian government's decision-making for several years. Pretty convenient for an ex-spy and a loyal Putin accomplice, isn't it?
At a time when Putin and Medvedev swapped offices – Medvedev became president and Putin downshifted to prime minister, Sergey Naryshkin was appointed to watch over the new president. From 2008 to 2011 he headed Medvedev's Administration non-stop.
A few months before the completion of Medvedev's presidential term in 2011, Naryshkin left the top administration post and was elected a member of the State Duma, to immediately become its speaker. In 2016, he once again saw success in running for the State Duma in one of the single-member constituencies of Leningrad region. Immediately after the election, however, Putin appointed him head of Russia's foreign intelligence service. Naryshkin is still at the agency's helm.
In addition to his political career, Naryshkin, probably in line with his Komsomol past, does some "civic activism". That is, he chairs the Russian Historical Community, the board of the History of the Fatherland Foundation, and the board of trustees at the Lenfilm studio. Sometimes, in non-official settings, Naryshkin was seen singing at corporate parties and weddings. In particular, he performed at the wedding of State Duma deputies Denis Voronenkov and Maria Maksakova, both close friends of his. That was before the couple fled to Kyiv, where Denys Voronenkov was eventually assassinated on March 23, 2017.
In a recent interview with Russia's Zvezda TV channel, Naryshkin said he had seen people betray him, adding though that the traitors were already burning in hell.
HEIR No. 3
Sergey Naryshkin has not only been following in Putin's footsteps throughout his career. In 2007, when Putin announced a casting for own temporary replacement, some media sources put Naryshkin in the short list of TOP-3 contenders on a par with Sergey Ivanov and Dmitry Medvedev.
At that time, the strengthening of Naryshkin's political presence was being discussed rather lively in media at the time. He was obviously offered the opportunity to show what he's got through certain projects and media campaigns he was expected to manage. The situation repeated itself in 2020.
In 2007, before the launch of the presidential campaign, he was being widely presented to investors at mass international events, while the media extensively covered Naryshkin's reports to Putin on his professional results. Also, a bunch of acclaimed speakers would publicly discuss Naryshkin's virtues.
Even Putin's aide Yuriy Shuvalov has clearly hinted that Naryshkin may be included in Putin's shortlist for the next Russian president. To promote Naryshkin, someone even launched a fake story about his allegedly noble origins, claiming blue blood.
However, Putin has ultimately opted for Medvedev, at the same time appointing Naryshkin to monitor the new president as head of his Administration.
Along with the promotion wave also came critical comments and media attacks on Naryshkin, tailored by actors who opposed his potential nomination for the throne. Reports were released about his close ties with Fradkov, as well as on the ridiculousness of his presidential candidacy as such.
Even then, back in 2007, the war for Putin's legacy was real and brutal. In 2021, the "fight for the throne" further deepened. However, the toolkit of promoting a public figure into a short list of potential candidates to replace Putin has remained unchanged.
RUSSIA'S TOP SPY
On the eve of Sergey Naryshkin's re-election to the State Duma in 2016, Russian media reported that 40% of his dissertation on "Foreign Investment and Economic Development of Russia" failed a plagiarism test. Naryshkin chose to simply ignore the allegation.
The exposure, however, was no obstacle for his appointment as Director of the Foreign Intelligence Service (SVR). Naryshkin immediately engaged in aggressive intelligence efforts, including the so-called "active measures", against Ukraine. Of course, he explained such vigor with the will to repel the harmful influence of U.S. intelligence.
Over the first two years at top SVR office, Naryshkin appeared in the media solely to cover up his subordinates' failures in the host countries, from where they were expelled for activity incompatible with diplomacy. Meanwhile, he himself was personally sanctioned by the U.S. and EU for the Crimea annexation attempt.
However, in 2018, the then-CIA Director Mike Pompeo personally invited Sergey Naryshkin, along with FSB head Alexander Bortnikov, for a meeting in Washington, D.C., to which end the two were issued one-entry visas and restricted from moving on the U.S. soil anywhere beyond the cars that drove them and the office to which they arrived.
As per the official press statement, the visit was about exchanging intelligence on terrorist threats. However, rumor has it that in the follow up of that meeting, the FBI gradually shut the probe into the alleged poisoning of Russian opposition figure Vladimir Kara-Murza and refused to draw light to its investigation findings.
It is possible that this happened in exchange for certain agreements reached during the talks. In his subsequent interviews, Naryshkin spoke quite warmly about his counterpart Pompeo. Cooperation with the new head of the CIA, Gina Haspel, was not so rosy, he added.
However, the non-formal visit most likely went quite well and led to the boost of Naryshkin's political weight within Putin's orbit, which further angered those desperately fighting for their place under the Kremlin throne. This is evidenced, among other things, by a media attack on Naryshkin's family, who were accused of applying for Hungarian passports. The breaking report was delivered by Russia's Novaya Gazeta and the Hungarian Center for Journalistic Investigations Direkt36.
The start of 2019 was also marked by a scandal for Naryshkin. Ivan Safronov, a journalist with the Russian newspaper Kommersant, co-authored with his colleagues an article where he claimed, citing own sources, that Federation Council chair Valentina Matvienko would soon be removed from her post.
At the same time, the piece was complimentary to Naryshkin. Stopping short of any direct statements, the article conveyed the narrative that Naryshkin would replace the Federation Council Speaker.
There is no evidence available that Sergey Naryshkin was involved in the publication. However, as a result of the release, Matvienko, a mastodon of Russian politics, was truly outraged and did everything in her capacity to make everyone possibly involved feel sorry for trying to snap at her.
As a result, journalist Ivan Safronov was forced to quit his job at Kommersant. It's obvious that for Matvienko, such a publication was pretty much a public slap in the face so she personally demanded from the outlet's owner Alisher Usmanov that he sack those responsible. Then one of the leading Russian journalists, who is now Dmitry Kozak's media mouthpiece, Alexei Venediktov, also got involved in the spat. As the scandal unfolded, he called for "looking closely" at Naryshkin.

I would look closely at Sergey Yevgenyevich Naryshkin.
Source - Alexei Venediktov's Telegram channel
Since then, positive and complimentary posts about Naryshkin on Telegram channels run by popular Russian journalist and editor of radio station Oleksiy Venediktov, journalist and politologist Stanislav Belkovsky, as well as the infamous (and anonymous) Nezygar, have become quite regular.
FAILURE IN PRAGUE
On June 5, 2020, Czech Prime Minister Andrej Babiš and Foreign Minister Tomáš Petříček delivered a joint press conference where they spoke of the two Russian diplomats who were declared non-grata and told to leave the Czech Republic.
There turned out to be a rather peculiar reason for the demarche, formulated by Babiš as "damaging Russian-Czech relations and putting an excessive burden on the Czech security forces".
During a press conference, it was reported that a conflict had arisen between Russian embassy employees in Prague, which resulted in one of them allegedly framing his colleague before the Czech secret services in April 2020, falsely claiming the latter had been plotting to poison Czech politicians with ricin. It is highly probable that the conflict had erupted between SVR and FSB officers (or assets).
According to Czech Foreign Minister Tomáš Petříček, they tried to find a compromise solution with the Russian side, but the "Russian approach" left them no choice but to pursue a diplomatic demarche.
The next day, Sergey Naryshkin announced to the Russian media that the expulsion of Russian diplomats was a "vile provocation by the Czech authorities" and vowed a Russian vendetta. But the real reasons behind the diplomatic scandal appear even more interesting.
Kommersant, which published a piece about Naryshkin's potential career rise, further delivered a more complete report with the names and positions of the expelled diplomats. Among them were head of the Russian Center for Science and Culture and acting head of Rossotrudnichestvo in the Czech Republic, Andrei Konchakov, and his subordinate, Ivan Rybakov. As for Rybakov, it was stated that he was a graduate of the FSB Academy. According to journalists, the scandal erupted over Rybakov's move to snitch on Konchakov to the Czech secret services, which, based on his report, provided a security team for at least three Czech officials. The report though eventually turned out to be fake.
According to the Czech authorities, one of the diplomats (probably Rybakov) provided the Czech secret services with a false tip about a Russian intelligence officer having allegedly arrived in the country to poison certain local politicians with ricin as revenge for the decision to dismantle the monument of Soviet Marshal Konev in Prague. Most likely, the "whistleblower" talked about Kontchakov, who could have been cooperating with the SVR. Thus, the FSB people have, in fact, framed their own colleagues and misinformed their Czech counterparts.
After receiving information about such a "neighborly gift", the SVR offered the Czech side its own explanation, which led to a row due to a conflict between certain Russians, whom the Czechs failed to reconcile.
Revenge was not long in coming. A month later, on July 7, 2020, Kommersant journalist Ivan Safronov, who had earlier authored a complimentary piece about Naryshkin's successful political path, was arrested by the FSB on charges of cooperating with the Czech intelligence and passing on secret information.
Ivan Safronov's lawyer, Ivan Pavlov, head of the Komanda 29 rights group, says he learned from the case file that the FSB had been tipped about Safronov's treason by an unidentified "SVR general", whose name was never disclosed.
Some FSB-controlled Telegram channels even reported that the SVR had been monitoring Safronov's home computer and intercepted his correspondence with his Czech intelligence handlers.

SVR had been monitoring Safronov's home computer and recorded his contacts with Czech Republic. That is, promotion for people with agency led by Naryshkin, who Venediktov believes is one of Putin's potential successors.
Source - Telegram-channel "Towards Transfer"
Asked directly by journalists what the SVR had to do with the protection of state secrets, Naryshkin evaded a direct answer, saying that "our two agencies always actively cooperate", stressing the unacceptability of any pressure on court. Thus, it can be assumed that the FSB deliberately dragged Naryshkin and his agency in the Safronov treason case as regards the whistleblower's identity.
It is possible, some sources in Ukrainian intelligence agencies say, that FSB wanted to put pressure on Sergey Naryshkin by the arrest and prosecution of the journalist who promoted him in the media by publishing the article of possible replacement of the Russian Federation Council Speaker by Naryshkin.
Four months later, in an interview with Russian propagandist Dmitry Kiselyov, the SVR boss said his agency had nothing to do with the case and that it was a "fake story invented by journalists."
It is possible that the question Kiselyov raised in the interview with Naryshkin had been prepared in advance to cross the t's and dot the i's and state that the FSB documents read out by Safronov's lawyer were lying. Perhaps, in this way Naryshkin also sought to prevent reputational risks related to being accused of exerting pressure on independent journalists.
Shortly before Naryshkin delivered his public comments, Echo of Moscow editor-in-chief Aleksei Venediktov reposted on his Telegram channel a report claiming that the FSB had allegedly fabricated the SVR involvement in Safronov's case.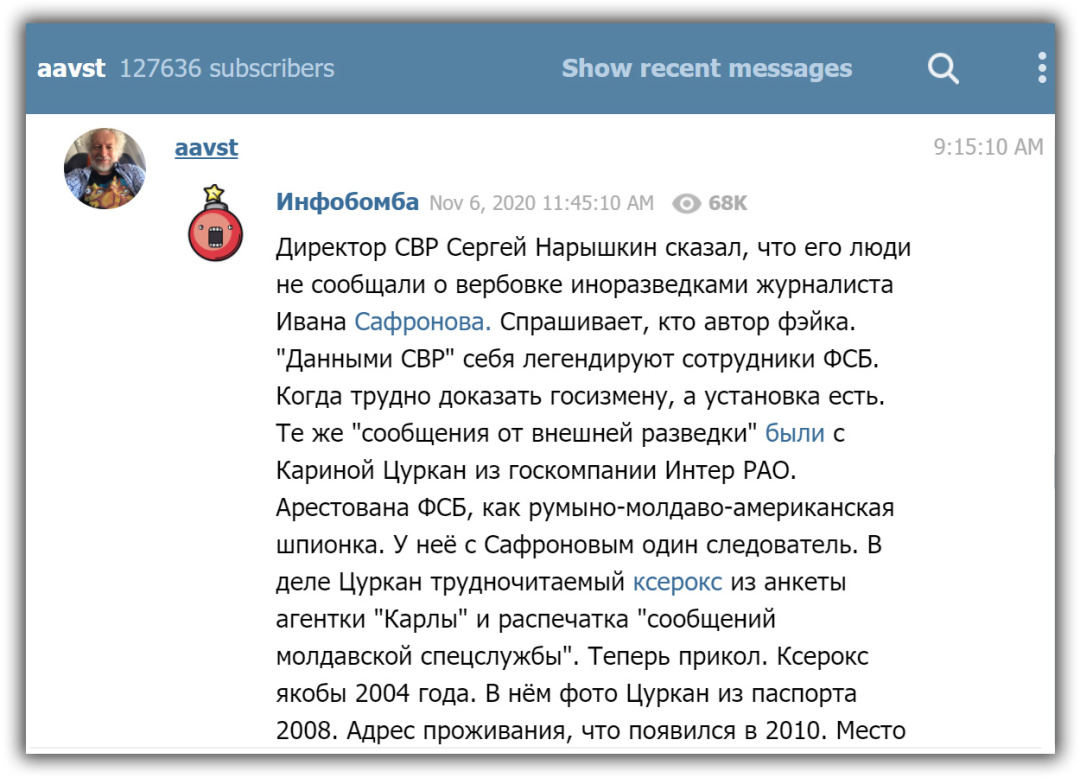 SVR Director Sergey Naryshkin said his men had not reported on journalist Ivan Safronov having been recruited by foreign intelligence services. He asks who came up with this fake piece of news. It's FSB people who cover themselves up with "SVR data''. That's when it's hard to prove high treason but the order is out there. Such "reports by SVR'' were mentioned in the case of Karina Tsurkan with the state-owned Inter RAO. She was arrested by the FSB as a Romanian-Moldovan-American spy. Her case is being investigated by the same detective as Safronov's. In the Tsurkan case there is a hardly readable copy from the Carla agent case file and a log of "Moldovan intelligence cables." Now here's a funny part. The copy is allegedly of 2004. But it has a photo of Tsurkan from her passport issued in 2008. Her residence address is mentioned, which she had from 2010.
Source - Alexei Venediktov's Telegram channel
One way or another, in this particular case, it's clear that Sergey Naryshkin's rhetoric varies depending on the political situation and his personal political interests. Meanwhile, the war between the FSB and the SVR has come to the fore.
NARYSHKIN'S PRESIDENTIAL CAMPAIGN
No intelligence officer, not even an intelligence chief, is allowed to engage in political stunts and promote his personal brand in parallel lines with their main job. It's not even about the fact that the laws on intelligence activity – both in Russia and Ukraine - explicitly prohibit such activity. It's primarily about such an endeavor being too risky in terms of possible exposures.
By developing his own brand, the spy could inadvertently put into a spotlight his network of human assets working to promote in the media space information that's beneficial for their handler. Ironically, certain narratives of Russian customers, tailored for domestic Russian audiences, get the initial spin in certain Ukrainian media.
For example, the narrative about "future president Naryshkin" was first introduced into the Ukrainian information space in March 2020 by former Putin adviser Andrey Illarionov, which says a lot about his affiliations – agency- and ideology-wise.
By the way, the Cato Institute from DC, where Andrei Illarionov was a senior fellow, lately launched an investigation about conspiracy theories in Illarionov's blog on pro-Trump rioters who stormed the Capitol.
After that, throughout 2020, the already mentioned anonymous Telegram channel Nezygar, Stanislav Belkovsky, and Oleksiy Venediktov via Telegram publicly predicted Naryshkin's career rise.
Alexei Venediktov said he would not be "surprised if Sergey Naryshkin became Russia's next president" in an interview with the "Not Pozner Yet" Youtube project, uploaded on January 16, 2019, ahead of the presidential elections in Ukraine. In 2020, Venediktov reiterated his forecast in an interview with Dmitry Gordon.
A number of Telegram channels also wrote about Naryshkin's possible appointment to the top diplomatic post. However, Alexei Venediktov decried such rumors.

Nezygar reports that Lavrov could shift to the Federation Council, to be replaced by Naryshkin.
This is impossible.
Source - Alexei Venediktov's Telegram channel
It's interesting that Stanislav Belkovsky also joined this refutation effort. In fact, Nezygar never wrote anything of this kind. On the contrary, an anonymous Telegram channel allegedly connected with the deputy head of President's Administration Aleksey Gromov, said Naryshkin's inclusion in the U.S. and European sanctions lists could hinder this. However, as we understand it, for any official, being on the adversary's sanctions lists is mostly a political advantage rather than a flaw.
In November 2020, Venediktov again directly raised on his Telegram channel the topic of Naryshkin's political future.

I'll reiterate this: Sergey Naryshkin is being prepared for a political appointment.
Source - Telegram channel of Alexei Venediktov
The next day, Belkovsky traditionally echoes Venediktov via Telegram.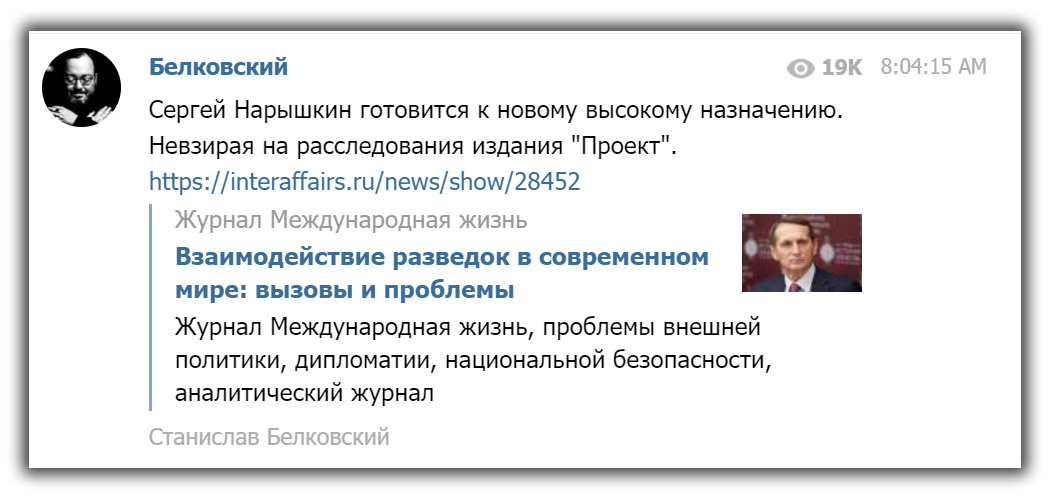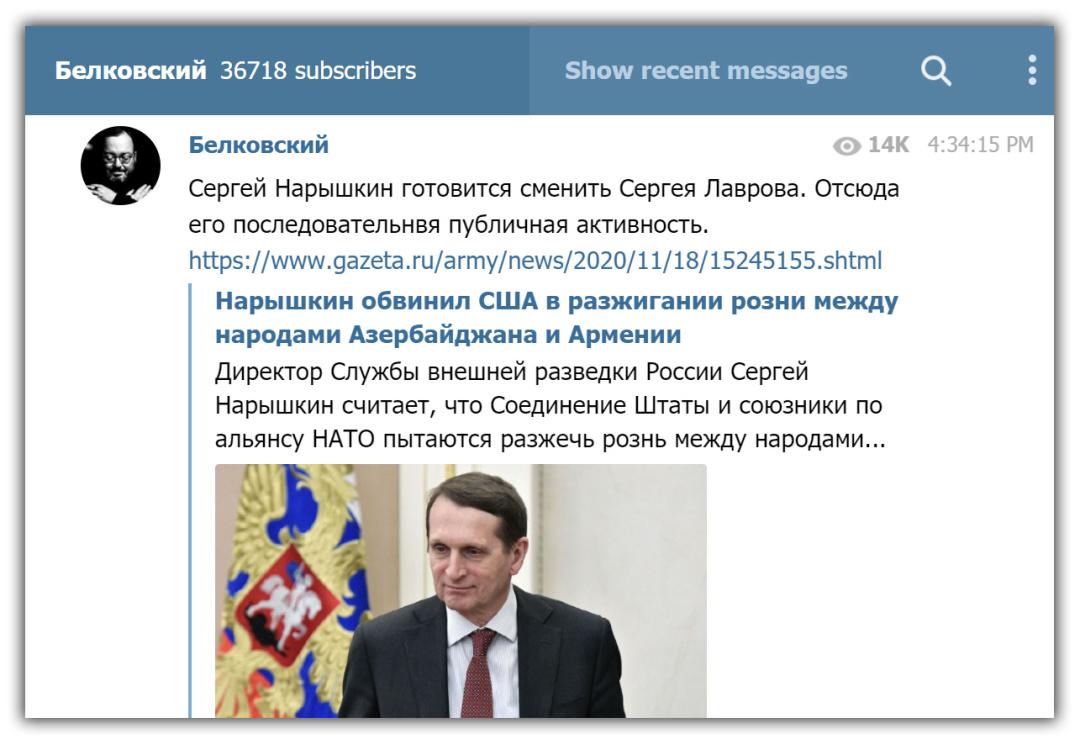 Sergey Naryshkin is getting ready to replace Sergey Lavrov. Hence his consistent public appearances.
Source - Stanislav Belkovsky's Telegram Channel
Stanislav Belkovsky, in particular, set out to compare Naryshkin with the former Russian Prime Minister Yevgeny Primakov (died in 2015).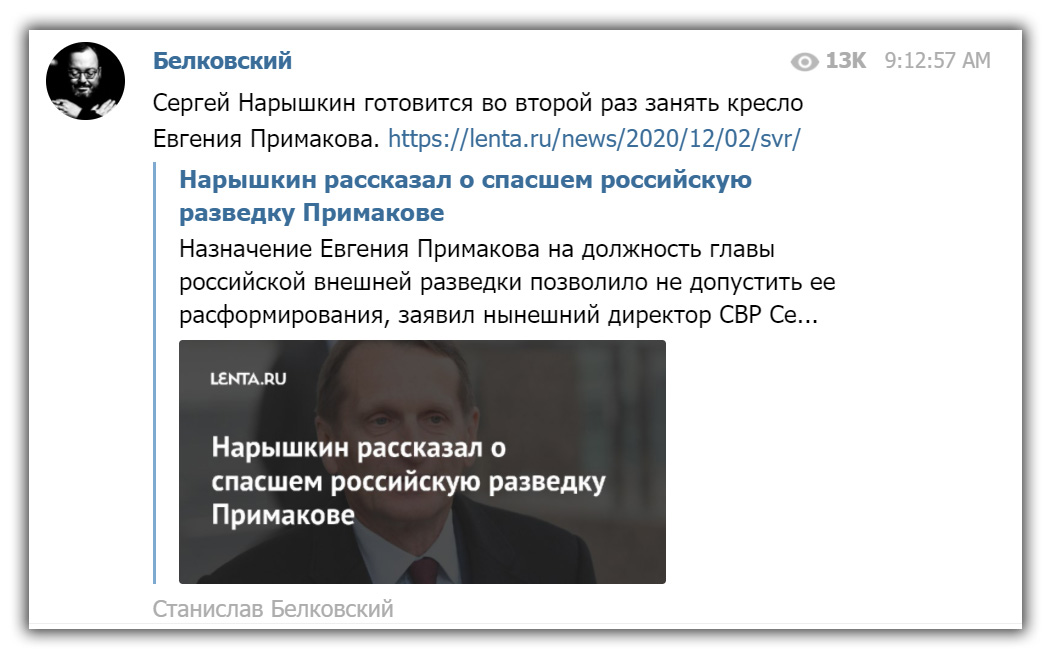 Sergey Naryshkin is preparing to take Yevgeny Primakov's seat, for the second time.
Source - Stanislav Belkovsky's Telegram Channel
The Nezygar Telegram channel has also tried on Naryshkin the image of the late Yevgeny Primakov.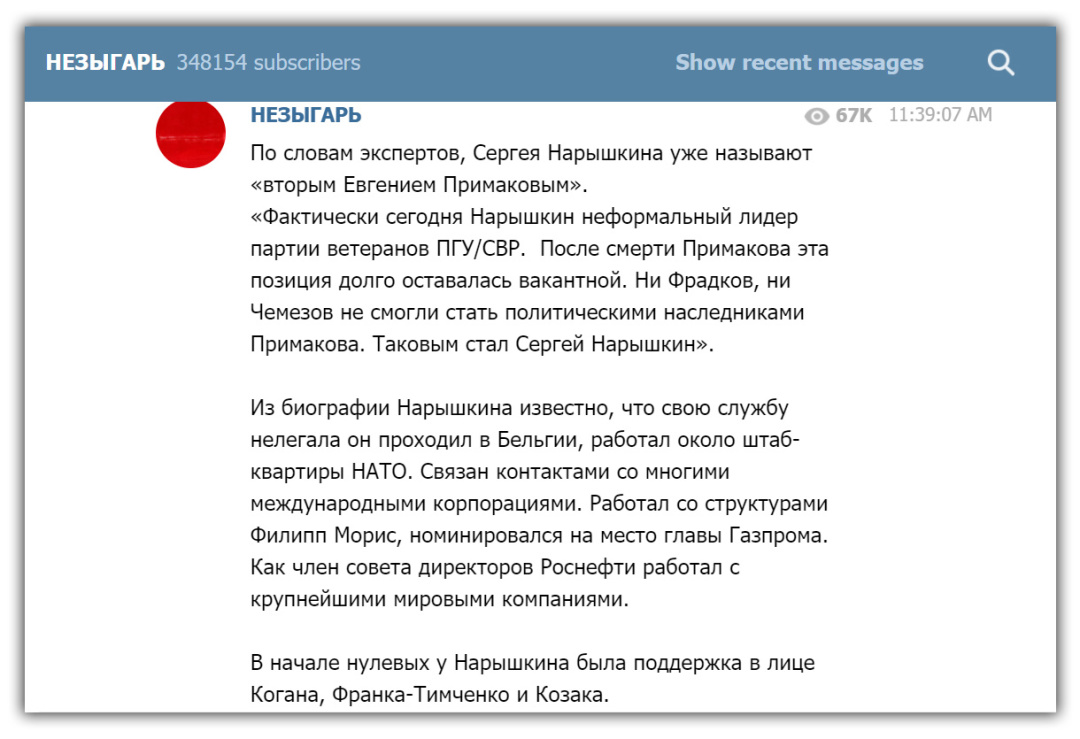 According to experts, some refer to Sergey Naryshkin as "another Yevgeny Primakov".
"In fact, today Naryshkin is an informal leader in the PGU/SVR veterans' party. After Primakov's passing, the position has long remained vacant. Neither Fradkov nor Chemezov succeeded in becoming Primakov's political heirs. It was Sergey Naryshkin who did.
Naryshkin's CV says he worked as a spy in Belgium, close to the NATO HQ. He used to work with the Philipp Morris companies, was nominated for the top post at Gazprom. As a Rosneft board member, he worked with the world's major companies.
In early 2000's, Naryshkin enjoyed support in the face of Kogan, Frank-Timchenko, and Kozak.
Source – Telegram channel "Nezygar"
In an interview recorded in October 2020, political expert Valery Solovey, who has recently been positioning himself as a kind of a "Russian Vanga" oracle, praised Sergey Naryshkin's chances of snatching the presidency.
Among the assumptions about Naryshkin's future was a possible transition to the position of Deputy Chairman of the Security Council, currently held by Dmitry Medvedev.
The Venediktov-Belkovsky-Nezygar Telegram channels either authored original entries about Naryshkin's prospects or reposted the relevant content from low-profile Telegram channels both with and without their own comments.
Some suggested that Naryshkin could replace Valentina Matvienko as Speaker of the Federation Council. The idea implied that, before tackling the presidential bar, one must first seize the springboard of a ministerial or parliamentary post.
At the same time, in November 2020, Russia's Sobesednik newspaper reported – this time bluntly enough – that Naryshkin was set to become Putin's successor.
However, as in 2007, there were actors in the Russian media space who were definitely not okay with Sergey Naryshkin beefing up his political presence. Moreover, the SVR chief was having a simmering conflict with the leaders of other Russian special services.
On December 15, 2020, the Russian online media platform Project, founded by former editor-in-chief of the RBC news agency Roman Badanin, released its investigation into Sergey Naryshkin's relationship with Russian oligarch God Nisanov, an Azerbaijan native.
Interestingly, although the investigation was positioned as "God Nisanov's portrait", its main target was Sergey Naryshkin, who was bound to star in the film after investigative journalists installed surveillance cameras at real estate sites owned by Nisanov.
For example, candid cameras saw Naryshkin meeting with Elman Bayramov, a high-profile figure in the Azerbaijani diaspora in Moscow and a relative of Azerbaijan's first vice prime minister.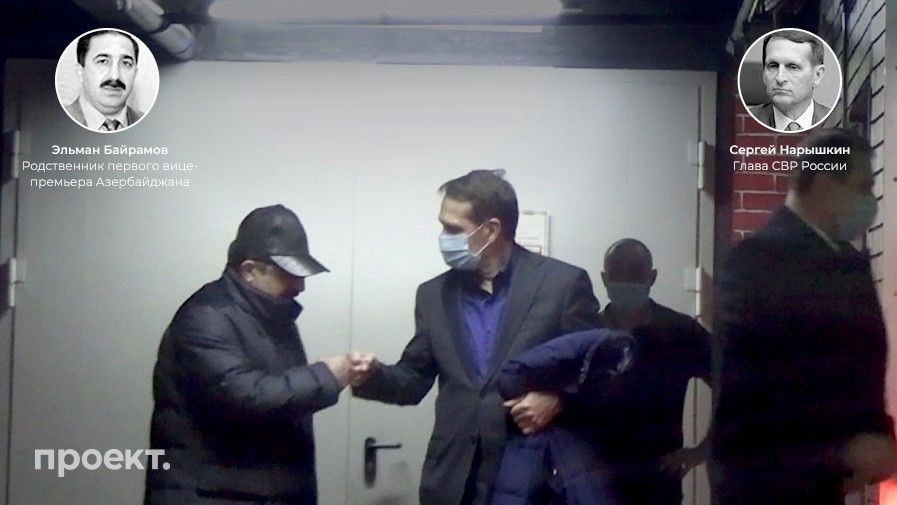 Source – An investigation report by Project journalists
A bit of spice to the whole story brought the fact that the investigation into Naryshkin's ties with the Azerbaijani diaspora in Moscow came out exactly when Sergey Naryshkin formally declared close cooperation with the Armenian secret services amid the Armenian-Azerbaijani conflict and officially confirmed that Turkish special services and mercenaries had been taking part in the conflict on the Azerbaijani side.
It is worth recalling that Roman Badanin's Project had previously released extensive investigative reports into the Nezygar Telegram channel (which was spotted promoting Naryshkin's agenda in the media space) and its alleged beneficiary, Tsar of Russian propaganda Alexei Gromov.
Another "promoter" for Naryshkin, Stanislav Belkovsky, jumped on the train of the scandal to squeeze out all PR possibilities in favor of the Russian intelligence boss.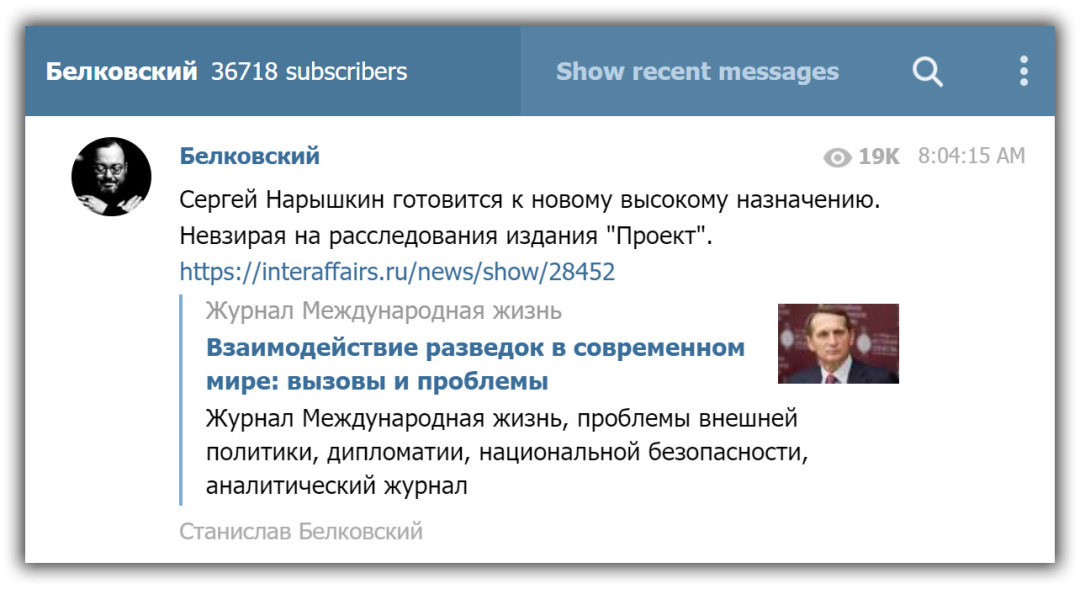 Sergey Naryshkin is getting ready for a high promotion. That's despite the Project outlet's investigations.
Source - Stanislav Belkovsky's Telegram Channel
The most interesting thing, in this case, was that an old-time comrade-in-arms sided with Naryshkin in this conflict. Putin's spokesman, Dmitry Peskov, when asked about Naryshkin's ties to the Azerbaijani diaspora, said that "it was not an issue of interest to the president."
However, Putin's support for his potential successor goes beyond his minion Peskov's comments, turning personal. In 2019, on Day of State Security Operatives, annually marked in Russia on December 20, Putin attended a gig at the Kremlin Palace, where he sat in the front row between SVR Director Sergey Naryshkin and FSB chief Alexander Bortnikov.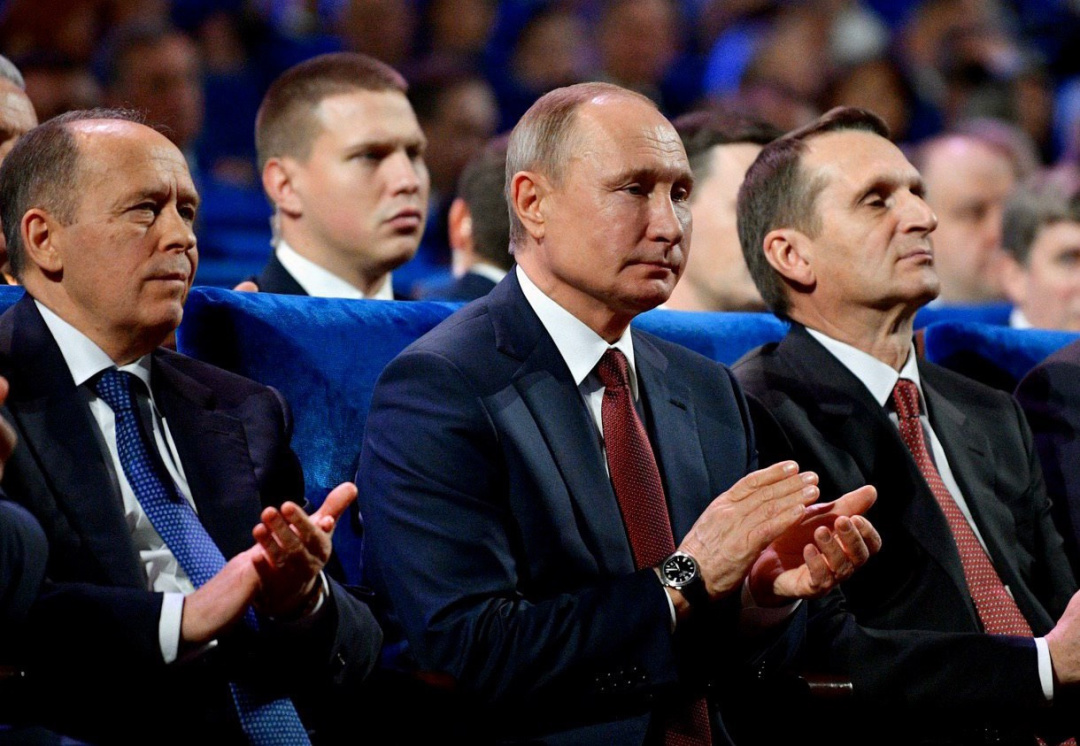 And already in 2020, due to the leaks related to Alexei Navalny's poisoning, FSB Director Bortnikov became a too toxic figure for Vladimir Putin. Therefore, on December 20, 2020, Vladimir Putin celebrated his professional holiday with his friend and fellow Sergey Naryshkin. To this end, he delivered a greeting address at the SVR headquarters in Yasenevo.
Putin's address was the last stone in a majestic monument of importance built by Sergey Naryshkin in celebrating the symbolic centenary of Russian intelligence. Then, the crown of Naryshkin's efforts was a big interview with Dmitry Kiselyov, the top propaganda pundit on Russian television.
NARYSHKIN'S BELARUSIAN CASE
Sergey Naryshkin's media appearance in the Belarus case launched on August 1, 2020, when the head of the Russian intelligence agency commented to a number of TV channels on the controversial arrest of Wagner PMC mercenaries in Minsk. He criticized the way the Belarusian media covered the incident, branding their efforts as "illogical".
He claimed he had been tipped about the reaction to the Wagner mercenaries' arrest among European political elites. It was in the mouths of these elites that Naryshkin put the words "staged action" in relation to the arrest. Naryshkin never explained who directed the action. The script and the production part were presented to the public by Russian GRU operatives posing as journalists with the Moscovskiy Komsomolets outlet. They have published an article where they have accused Ukrainian special services in plotting the arrest of the mercenaries after forced landing of the flight with them in Kyiv.
Since that moment, the Russian intelligence chief has become a legit actor in the Belarusian case and the Minsk events that followed the presidential election.
It is obvious that Naryshkin's public response to the situation was sanction and ordered by Putin, who had taken under personal control the processes unfolding in Minsk. Naryshkin became one of the first Russian officials to comment on the arrest of the Wagner PMC mercenaries. This fact was even pointed out by Russian political expert Marat Bashirov, who runs the "Politjoystick" Telegram channel.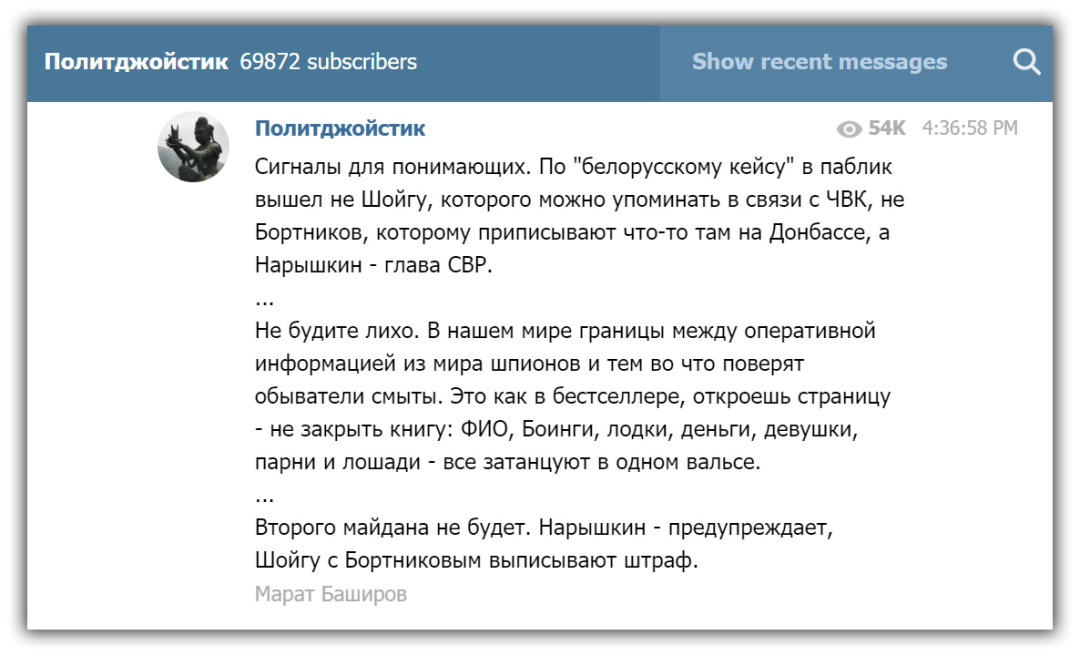 Signals for those who are aware. On the "Belarus case," a public appearance was not by Shoigu, who could have been mentioned in the context of the PMC and not by Bortnikov, who's allegedly involved in something related to Donbas. It was Naryshkin, the SVR chief.
Don't play with fire. In our world, the borders between intelligence reports from the spy world and the reports that average audiences will believe have been washed out. This is like in a bestseller: once you open the page, you can't close the book anymore: Names, Boeings, boats, money, girls, guys, and horses – everyone will dance a joint waltz.
There will be no second Maidan. Naryshkin warns, while Shoigu and Bortnikov issue fines.
Source - Telegram channel "Political Joystick"
In addition, Naryshkin by that time had already built quite friendly relations with Alexander Lukashenko so he didn't hesitate to boast about it for the media. Here, for example, Lukashenko gives Naryshkin a brotherly hug on camera at their meeting in Minsk in October 2017. Besides, let's not forget that Naryshkin is married to a Belarus-born woman.
In August-October 2020, Naryshkin voiced several bold statements claiming he had at his disposal information that the Belarus protests had been organized for American money. In particular, Stanislav Belkovsky posted on his Telegram channel Sergey Naryshkin's statement alleging that amid rallies in Belarus, the murder of a Catholic priest was being plotted in order to incite religious hatred.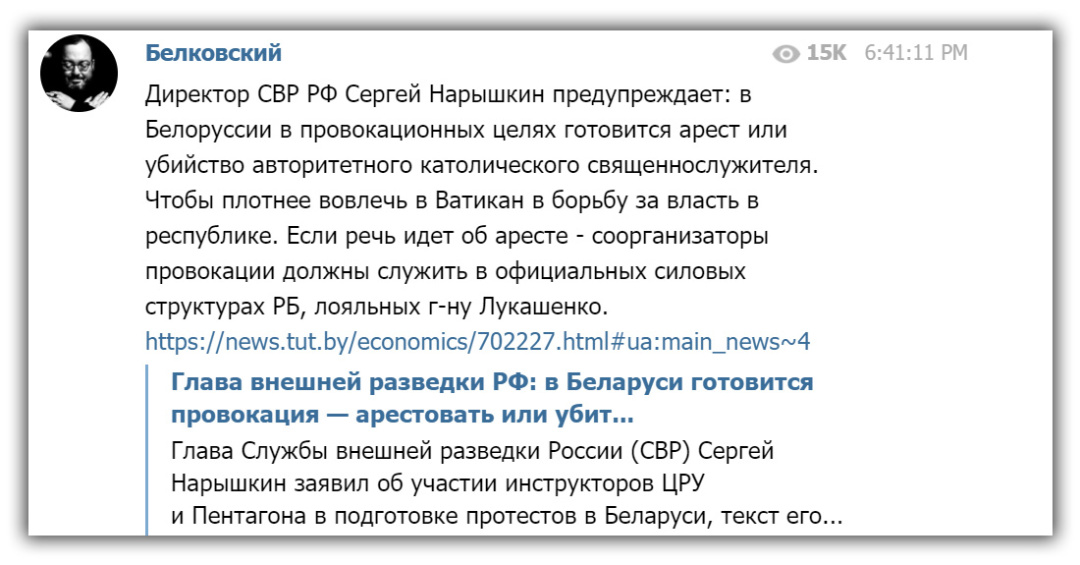 SVR Director Sergey Naryshkin warns: in Belarus, as an act of provocation, the arrest or murder of a prominent Catholic cleric is being prepared. That's to draw the Vatican deeper into the fight for power in the Republic. If it's about the arrest, co-organizers of this provocation are supposed to be part of the Belarusian official security agencies that are loyal to Mr Lukashenko.
Source - Stanislav Belkovsky's Telegram Channel
Then, in October 2020, at yet another meeting between Alexander Lukashenko and Sergey Naryshkin, the Belarus leader thanked the top Russian spy for ensuring that the SVR had been constantly sharing intelligence with the Belarusian secret services. On the day of Naryshkin's visit to Minsk, the Russian SVR and the Belarusian KGB held a joint session. A number of sources claim that in the Kremlin's high offices, the event was presented as integration of the secret services of the "Union State" – a new entity toward which Putin had been pushing Lukashenko.
Alexei Venediktov rushed to comment that "Naryshkin, who is Putin's close ally, was sent to Minsk to remind Lukashenko of his commitments he had undertaken in talks with Putin." Besides, Venediktov once again stressed that Naryshkin could be promoted to minister.
On January 4, 2021, a Brussels-based EUObserver outlet and the Belarusian project People's Tribunal released a leaked tape, purportedly of the conversation between Belarus KGB chief Vadim Zaytsev and his subordinates, as well as a number of photocopies of what's believed to be surveillance reports where the target was Belarusian journalist Pavel Sheremet who at the time lived in the town of Zelenograd just outside Moscow.
It is no secret that, despite participating in a joint working session with the SVR in October 2020, the Belarus KGB still sees as its main partner in Russia the FSB security service, with which, as we have seen, Naryshkin's conflict escalated in 2020.
The first Russian source to point to the Belarusian trace in Pavel Sheremet's murder in Kyiv was Stanislav Belkovsky. Back in December 2019, discussing with Nadia Vlashchenko, a journalist with Putin crony Viktor Medvedchuk's TV channel, the issue of Arsen Avakov's press conference on the arrest of suspects in the journalist's murder, Belkovsky said that behind the assassination could stand the security agencies of a certain country whose leaders are also annoyed by Sheremet's work; and that it's neither Russia nor Ukraine.
However, at that time Belkovsky stopped short of naming the country he implied. However, his hint was purposefully included in the report by a pro-Russian PolitNavigator outlet, which had been blocked in Ukraine in line with the motion put forward by the Ministry of Information Policy.
Following a report by EUObserver, he no longer restrained himself and bluntly accused Belarusian and Ukrainian security services of murdering Sheremet, claiming they had allegedly worked together on the plot.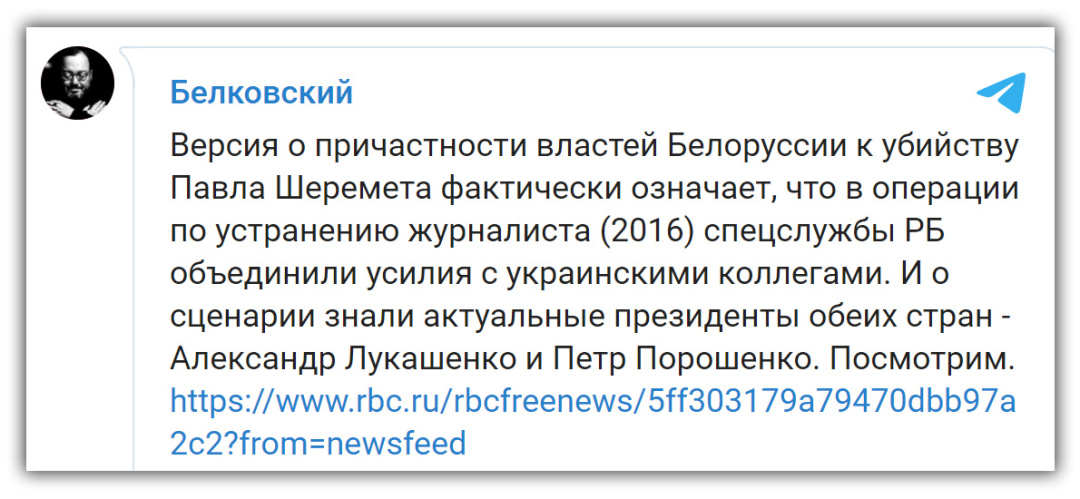 The version about the complicity of Belarus authorities in Pavel Sheremet's murder in fact means that in the operation to physically liquidate the journalist (2016), Belarusian special services joined efforts with their Ukrainian counterparts. And that the presidents of both countries at the time – Alexander Lukashenko and Petro Poroshenko – were aware of the plot. We'll see.
Source - Stanislav Belkovsky's Telegram Channel
It can't be ruled out that the release of the leaked tapes purportedly exposing communications at the office of Belarus KGB chief back in 2012 is in fact part of a special operation run by Russia's SVR, It could aim, first, at delivering a blow at the KGB in Belarus and the FSB in Russia and, secondly, at putting the Ukrainian security agencies back in the list of suspects in the murder of journalist Pavel Sheremet.
In addition to the Belarusian case, Naryshkin also actively commented on the Moldovan one, which also is a conditional sphere of his former boss in the Russian government, Dmitry Kozak. Among other things, Naryshkin traditionally preached the idea that the U.S. was plotting a "color revolution" amid the elections in Moldova. Fortunately, the defeated Igor Dodon calmly conceded and transferred power to the newly elected Maia Sandu, despite proposals for ways to unlawfully retain power, which could well have come from the Kremlin.
RUSSIA'S NEXT PRESIDENT
Practice shows that predicting the future of the Kremlin leadership is truly ungrateful of an endeavor. And it's not just about Vladimir Putin's perverted ways in designating his successor. And neither is it only about the struggle in the high offices that's ongoing between the Kremlin's various towers. Most probably, small and inevitable flocks of "black swans" should be expected by both Kyiv and Moscow that would further shuffle the cards.
A simple resolution of the forecasting routine is analyzing all possible candidates in order to be prepared for any developments. It is for this purpose that this piece was authored. It looks into one of the multiple options out there on the table.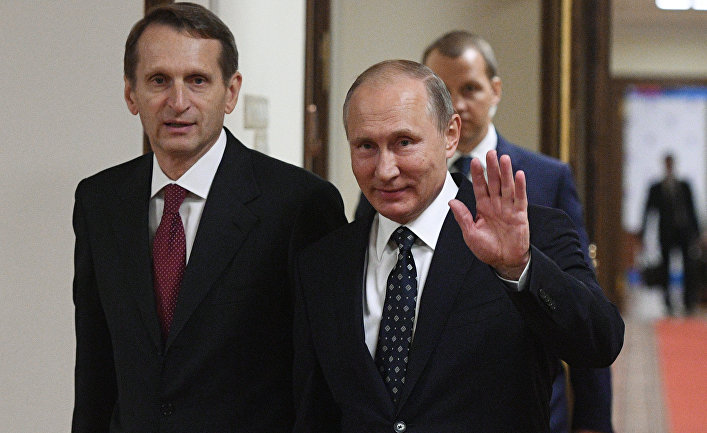 It is far from conclusive that Naryshkin will become president of a country that poses an existential threat to Ukraine. However, we need to be prepared for such an option in any case.
Naryshkin is a clever and elaborate enemy. He's been wherever and done whatever Vladimir Putin has. He's just as experienced as the incumbent president in scheming and international confrontation. Unlike Putin though, he is top breed, as if he was born to be part of the elite. Meanwhile, originally a St. Petersburg hoodrat and then a low-profile counterintelligence operative, Putin bears an image much closer to that of a street thug ("gopnik", as Russians say). In this striking difference lie both advantages and vulnerabilities. And if we are set to be ready to seal a win over him (that's if he makes it to the very top of the Kremlin), we need to respect, know, and study our adversary.
Dmytro Zolotukhin
* The author's point of view may not coincide with the position of the news agency