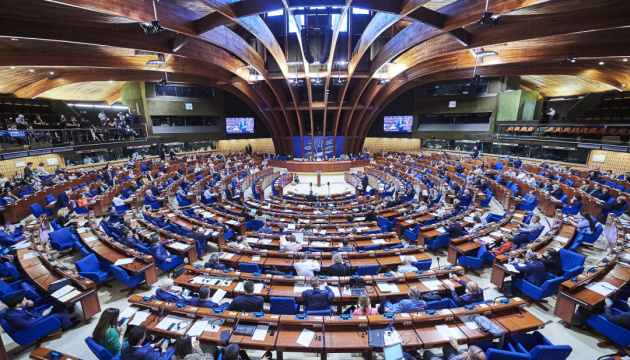 Ukraine at PACE manages to challenge powers of Russian delegation
The powers of the Russian delegation to the Parliamentary Assembly of the Council of Europe were challenged. The issue was submitted for further consideration to the relevant PACE committees.
Such an initiative was put forward at the beginning of PACE winter session by Maria Mezentseva, the head of the permanent delegation of the Verkhovna Rada of Ukraine to the PACE, an Ukrinform correspondent reports.
The initiative was supported by 38 PACE members.
"On behalf of my colleagues, I challenge the powers of the Russian delegation on the merits in connection with serious violations of the Council of Europe's charter and Russia's failure to fulfill its obligations," said the head of the Ukrainian delegation.
She reminded that in 2019 the Assembly restored the powers of the Russian delegation, aiming to resume political dialogue and enhance protection of Russians.
"But despite this, the Russian authorities continue to restrict political and civil freedoms… Russia continues to repress and violate human rights in the occupied territories, violating many PACE resolutions which condemn Russia's violation of international law, illegal annexation of Crimea, military occupation of Donbas," Mezentseva said.
She also reminded that the adopted amendments to Russia's Constitution allow Russia not to comply with international treaties and provisions of international law.
"To date, we have seen Russia's complete disregard for the Assembly's requests," the head of the Ukrainian delegation added.
Next, according to the procedure, a draft resolution on challenging the powers should be prepared by the PACE regulatory and monitoring committees. After that, the draft resolution must be voted on by the Assembly.
In June 2019, France and Germany insisted on the restoration of powers of the Russian delegation to the PACE despite the fact that Russia failed to fulfill any of its obligations in the Council of Europe, continued armed aggression against Ukraine, occupation of Crimea, human rights violations.
The PACE winter session is being held in Strasbourg on January 25-29.
ol