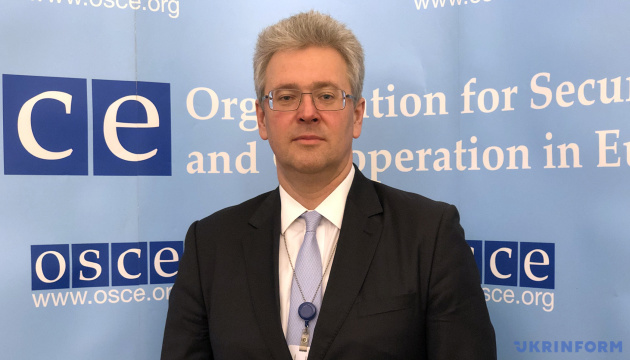 Ukraine's Permanent Representative: Crimea must be on OSCE agenda
Ukraine calls on Sweden's Chair of the OSCE to pay attention not only to Donbas but to Crimea as well in order to help settle the Russia-Ukraine conflict.
"Special attention in facilitating resolution of the Russian-Ukrainian conflict must be paid to the Autonomous Republic of Crimea and the city of Sevastopol, temporarily occupied by Russia. The ongoing accelerated militarization of the Crimean peninsula and its surrounding waters has in fact created a new security reality in the Black Sea and the wider Mediterranean region," Ambassador Yevhenii Tsymbaliuk, Permanent Representative of Ukraine to the International Organizations in Vienna, said at the OSCE Permanent Council meeting on January 14.
He added that systematic persecutions of dissenting voices, mass media, civil activists and human rights defenders continue unabated.
"We call on the Swedish Chairpersonship not to limit its activities only to the existing Donbas-related mechanisms. Crimea is Ukraine. Crimea must be on the OSCE agenda, notwithstanding Russia's illegal stance on this issue," Tsymbaliuk stressed.
As reported, on January 1, 2021, Sweden took over the Chair of the Organization for Security and Co-operation in Europe (OSCE) for a period of 12 months.
On Thursday, OSCE Chairperson-in-Office and Minister for Foreign Affairs of Sweden Ann Linde presented the program and priorities of Sweden's Chair at the OSCE Permanent Council meeting.
She stated, in particular, that a peaceful settlement of the conflict in Ukraine should take place with full respect for Ukraine's sovereignty and territorial integrity within its internationally recognized borders, including the Autonomous Republic of Crimea and Sevastopol.
ol