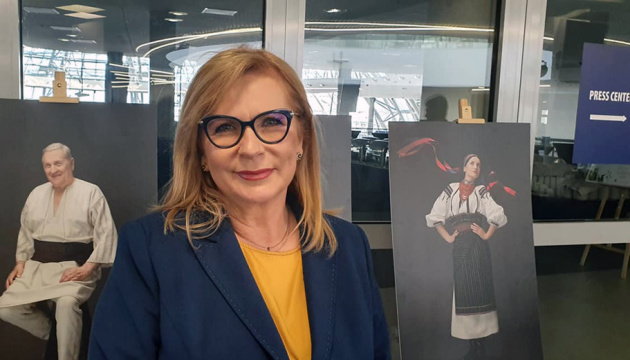 Gosiewska: ICC takes note of report on Russia's crimes in Donbas
The International Criminal Court in The Hague took note of the report entitled "Russian War Crimes in Ukraine in 2014" which was submitted by Deputy Speaker of the Polish Sejm Małgorzata Gosiewska.
The issue of launching an investigation into Russia's crimes in Ukraine is likely to be addressed soon by the successor to the incumbent prosecutor of the ICC, Ukrinform reports with reference to Gosiewska's post on Facebook.
"This report was submitted to the ICC in The Hague in 2016. I would like to inform you that the preliminary study of this case was completed by ICC prosecutor Fatou Bensouda at the end of 2020. The prosecutor acknowledged that there is a reasonable likelihood that war crimes and crimes against humanity were committed in the territory of Ukraine during the period covered by the report," Gosiewska wrote.
She reminded that those crimes were divided into three categories: committed during armed hostilities, committed during detentions and arrests, as well as committed in Crimea.
The Deputy Speaker of the Polish Sejm noted that the ICC in The Hague made such a decision given that the relevant investigations are already underway in Ukraine and Russia.
As Gosiewska noted, ICC prosecutor Bensouda, speaking about her arguments in favor of launching a trial on the crimes of the Russian Federation in Ukraine in December last year, still did not announce a final decision. According to the Polish politician, this is probably linked with the end of Bensouda's tenure as the ICC prosecutor in June 2021. So she probably decided to leave her successor to make a final decision.
"I will continue to monitor the progress of this case and inform about it," the Deputy Speaker of the Polish Sejm summed up.
The report "Russian War Crimes in Ukraine in 2014" was prepared on the basis of more than 60 interviews conducted by Polish and Ukrainian volunteers with prisoners. The former prisoners told, among other things, about physical and mental torture, murders in which Russians were involved.
In the first half of 2016, the document was presented in the European Parliament, the Verkhovna Rada of Ukraine, the Sejm of Poland, and at the OSCE meeting. In April 2016, Gosiewska personally submitted the report to the International Criminal Court in The Hague.
On December 11, 2020, ICC prosecutor Fatou Bensouda stated that there was sufficient basis to believe that a wide range of acts committed in the context of the situation in Ukraine constituted war crimes and crimes against humanity within the jurisdiction of the International Criminal Court. The ICC completed its review of case files it had received from Ukraine, including from the Prosecutor General's Office and non-governmental organizations that documented the war crimes and crimes against humanity committed in Russian-occupied territories. Now the ICC is expected to adopt a decision to initiate the investigation.
ol