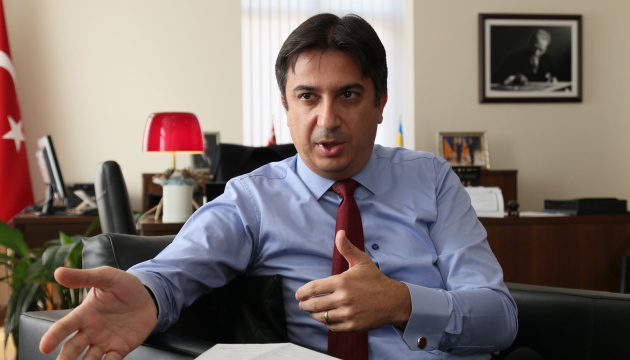 Turkey raises issue of non-recognition of Crimea's annexation on all international platforms – ambassador
Turkey's position on the annexation of Crimea by the Russian Federation has been clear since 2014 – Turkey has not and will not recognize the annexation – it has been declared on international and bilateral platforms at all levels.
Ambassador Extraordinary and Plenipotentiary of the Republic of Turkey to Ukraine Yağmur Ahmet Güldere said this in an exclusive interview with Ukrinform.
"Our official stance on Crimea has been absolutely clear since 2014. We have not recognized the annexation and we will not do it. This was said on international and bilateral platforms at all levels," the ambassador noted.
The diplomat recalled Ankara's support for the initiative to create a Crimean Platform. "We are coordinating preparatory work with our colleagues in Ukraine. We also support Ukraine's initiatives on other international arenas and platforms," he said.
According to Yağmur Ahmet Güldere, Turkey condemns the searches and arrests of Crimean Tatars in Crimea and has repeatedly stated this at a Foreign Ministry level.
The diplomat also spoke about the implementation of a project to build housing for Crimean Tatars in Ukraine. "The final stage of determining the best place for housing construction and choosing the legal framework for this project is underway. We hope that this process will be completed soon and that in 2021 we will be able to start construction and complete it as soon as possible," the ambassador said.
As Ukrinform reported, at the 27th OSCE Ministerial Council in early December, Turkish Foreign Minister Mevlut Cavusoglu said that human rights violations in Crimea and the situation of Crimean Tatars remained a matter of concern. He also stressed that Turkey's position on the independence, sovereignty and territorial integrity of Ukraine, including Crimea, remains unchanged.
ish