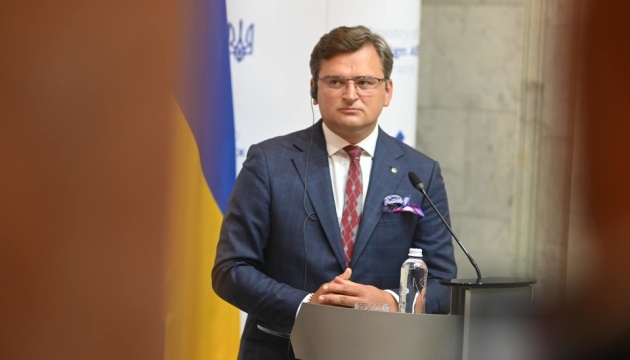 FM Kuleba: Orbán's visit to Ukraine remains on the agenda
The visit of Prime Minister of Hungary Viktor Orbán to Kyiv and his meeting with President of Ukraine Volodymyr Zelensky remains on the agenda of bilateral relations.
"This visit [of Orbán to Ukraine] has not been removed from the agenda. Moreover, I assure you that the President of Ukraine is ready to hold such a meeting. But it needs to be meaningful and reset the relationship. And the task of diplomats now is to approach this moment," Minister of Foreign Affairs of Ukraine Dmytro Kuleba said in an interview with TSN.
The minister assured that the Ukrainian side is open to this meeting to resolve all misunderstandings with Hungary.
At the same time, Kuleba noted, in order to reset the relations, it should be clearly stated that "from now on, the rules of the game are such and both parties agree to these rules."
"We have received a signal from Hungary that they are ready to resume a constructive dialogue after a significant sharp decline in relations last month. And we will respond positively to this signal. Therefore, Hungary will be in focus next year and we will try to get out of the disagreeable situation in which we found ourselves," the minister said.
As reported, Viktor Orbán said on January 9 that a personal meeting with Zelensky is needed to try to improve Ukraine-Hungary relations.
In late July, Hungarian Ambassador to Ukraine István Íjgyártó told the media that Orbán would visit Ukraine when "circumstances permit."
The Ukraine-Hungary relations have deteriorated since the Verkhovna Rada passed the Law of Ukraine "On Education" on September 5, 2017. In accordance with the provisions of this document, which entered into force on September 28, 2017, the use of the state language in school teaching was expanded.
After that, Hungary expressed concern about the future of the Hungarian minority in Ukraine.
Budapest blocked a meeting of the NATO-Ukraine Commission at the highest level and stated that it was ready to oppose Ukraine's Euro-Atlantic integration until the law was amended.
On January 16, the Verkhovna Rada passed the Law of Ukraine "On Complete General Secondary Education" which, among other things, regulates the issue of teaching in the languages of indigenous peoples and national minorities.
ol