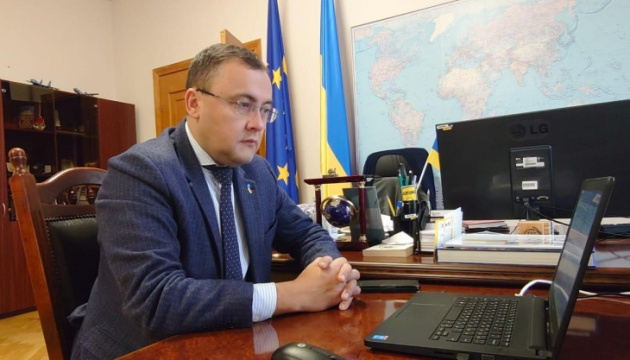 Ukraine proposes creating digital trade hub within GUAM
Ukraine's Deputy Foreign Minister Vasyl Bodnar has proposed creating a digital trade hub within GUAM, the Ukrainian Foreign Ministry's press service has reported.
According to the report, Bodnar stated this at the 36th meeting of the GUAM Council of Foreign Ministers held in the format of a videoconference.
"The deputy minister said the work should continue to implement new key projects within GUAM, related to the development of the transport corridor and the creation of a free trade area, including trade and transportation assistance projects, a digital trade hub, and others. The diplomat noted that one of GUAM's main projects - the Transport Corridor - will be developed as part of the [Trans]-European Transport Network using the mechanisms of the Eastern Partnership," the statement reads.
He said that during the discussion of the security situation, the lack of security and trust is a direct consequence of the destructive policy of the Russian Federation, which violates the norms and principles of international law.
He stressed that Ukraine consistently supports the territorial integrity of its partners in GUAM - Azerbaijan, Georgia and Moldova. He also emphasized the importance of solidarity of the positions of GUAM member states on the international stage.
Following the meeting, the sides agreed to sign a memorandum of understanding between GUAM and Israel and between GUAM and the United Nations Office on Drugs and Crime. A new consular convention is to be signed, the decision was made on the development of the international legal framework for cooperation, and a GUAM communication strategy was approved.
Georgia will take over the GUAM presidency on January 1, 2021.
op