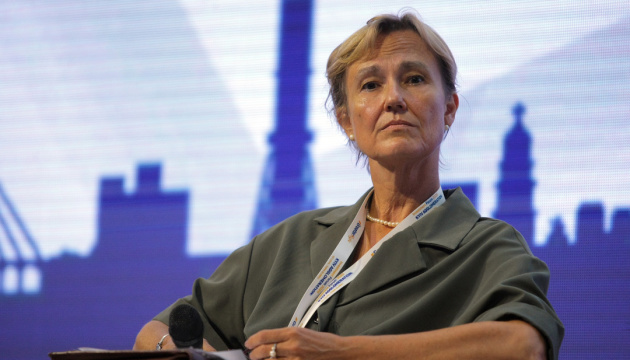 Germany will help Ukraine become EU member - ambassador
Germany has been one of Ukraine's longest-standing and most reliable partners since its independence and so much more so since 2014, and it will continue to support Ukraine's Euro-Atlantic integration, according to German Ambassador to Ukraine Anka Feldhusen.
She said this in an interview with the KYIV NOT KIEV project.
"My very private opinion is that Ukraine will become a member of the EU; not in the next two or three years, that is clear, but it will become a member," Feldhusen said in the first part of the interview.
According to the ambassador, Germany has a pretty pragmatic approach to EU enlargement, different from other countries that are either "always for" or "always against" the admission of new members to the EU.
In the second part of the interview, the diplomat drew attention to the role of the G7 Ambassadors' Support Group in Kyiv, which maintains a constant and constructive dialogue with the Ukrainian authorities and is "a good mirror for the Ukrainian government and the president" to see if Ukraine is moving in the right direction on its road to Euro-Atlantic integration. At the same time, Feldhusen said, comments from the G7 ambassadors should never be taken as "external management."
Speaking about the most promising areas of German-Ukrainian cooperation, Feldhusen mentioned the energy partnership, which has been actively developing, especially in the last few months. In particular, there are very interesting projects in the fields of coal transformation and in the field of getting energy from hydrogen, she said. Ukraine is one of the three pilot project countries for Germany for the joint development of places where hydrogen can be produced and then imported into Germany, the diplomat said.
Feldhusen added that Ukraine would be able to use its gas transit system to transport hydrogen along with natural gas.
As for the very controversial Nord Stream 2 gas pipeline project, which could leave the Ukrainian pipelines without gas transit, she said that Germany could not present its arguments well and defend its position on the project before Ukraine and European partners. Like many German politicians, she sees no threat to Germany's dependence on Russian gas with the launch of the pipeline and insists on Berlin's crucial role in the signing of an agreement between Naftogaz and Gazprom last year.
The German ambassador recalled that Berlin was making every effort to end the war in eastern Ukraine, but added that Germany would not change its policy of not providing military assistance to countries at war. So Ukraine should not hope for armaments from Germany. What Germany is doing is providing very significant assistance to Ukrainian military medics, helping to reform this area and receiving wounded Ukrainian servicemen for treatment and rehabilitation, the diplomat said.
Feldhusen again called on Ukrainians to carry out judicial reform. This, in particular, is absolutely necessary because, last but not least, it affects the investment climate, she said. According to her, over the past two or three years, German businesses have not actually invested in the Ukrainian economy due to fears that they will not be able to defend their cases in court. The ambassador generally praised the reforms in Ukraine in recent years, but traditionally criticized the lack of progress in separating oligarchs from power.
When asked what can help Ukraine improve its image in the world, Feldhusen named two areas - tourism and fashion. "I think Ukraine could become a fantastic tourist destination, especially for Germans and other Europeans who live nearby," the ambassador said.
op