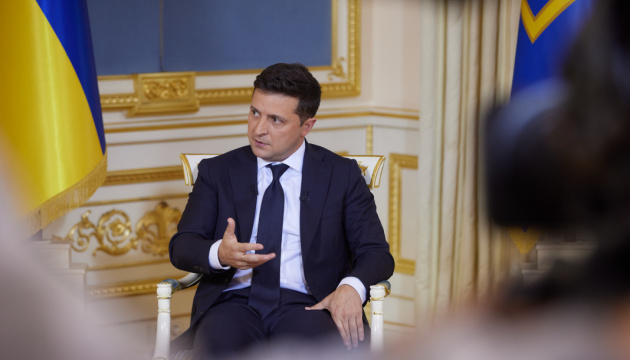 President: It's too early to talk about Plan B for Donbas
President Volodymyr Zelensky believes that the Russian Federation is in no hurry to end the war in Donbas but it is too early to talk about Plan B.
"I believe that no one wants to end the war, except Ukraine. No, European partners also want to end it. Only Russia is not in a hurry, it is unprofitable for the militants. It turns out a simple situation from which we need to find a difficult way out," Zelensky said in an interview with the Focus media outlet.
The President stressed that Ukraine cannot simply withdraw from the Minsk agreements because the Europeans could lift sanctions on Russia and representatives of occupied Donbas but added that he personally would withdraw.
"Now, sitting on twine, we need to do something, get to our feet, because otherwise we will move forward too slowly. So we said that we do not agree with some points. And we will elaborate a detailed plan to end the war. To this end, we proposed to establish ceasefire and observe it from a specific date, without paying attention to provocations. I believe that the first step has been taken," the President said.
He noted that the next step will be a meeting of advisers to the leaders of the Normandy format countries who should prepare a meeting of leaders.
Zelensky informed that the meeting of advisers was to take place in December and it was planned to discuss concrete steps. He also wants specific dates to be tied to these steps.
"And here the disputes arise because everyone will have to bear responsibility for the dates. This meeting did not take place. First, they argue. Second, the coronavirus pandemic is ongoing so now it does not take place as well," the Head of State said.
According to him, a plan with all the dates will be prepared after the meeting.
At the same time, Zelensky stressed that this is Plan A, while it is too early to talk about Plan B.
As reported, the ceasefire has been in force in Donbas since July 27.
After the Trilateral Contact Group meeting on July 22 at which additional measures were agreed upon to strengthen the ceasefire, the OSCE SMM has recorded at least 4,444 ceasefire violations since 00:01 on July 27.
ol