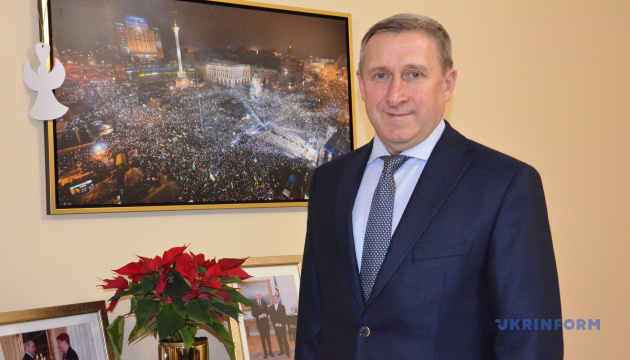 Ambassador Deshchytsia: Lublin Triangle gives Ukraine new opportunities
The political format created this year - the Lublin Triangle - significantly strengthens the opportunities for regional cooperation between Ukraine, Poland and Lithuania.
"Ukraine not only joins existing regional projects, but also became in 2020 a co-founder of a new one - the Lublin Triangle. And this gives us new opportunities. After all, the Lublin Triangle platform significantly expands the spheres of trilateral cooperation between Ukraine, Poland and Lithuania," Ambassador of Ukraine to Poland Andriy Deshchytsia said in an interview with Ukrinform.
According to him, cooperation in trilateral format was conducted previously at the level of the Interparliamentary Assembly of the three countries and within the LitPolUkrbrig international military brigade. Instead, the Lublin Triangle now institutionalizes a platform for deepening cooperation between the foreign ministries of the three countries, the National Security Councils, and so on.
"I am convinced that this platform is also promising for deepening cooperation between other public authorities, as well as helping to revive people-to-people contacts," the Ukrainian diplomat said.
Deshchytsia said that Ukraine is interested in further deepening cooperation with partners in the region in the Visegrad Group + format, within the framework of the Europe of the Carpathians initiative and by joining the Three Seas Initiative.
According to Deshchytsia, the invariability of Poland's stance on Russian aggression is very important for Ukraine.
According to the ambassador, Poland has consistently supported Ukraine in the international arena in both issues related to the occupation of Crimea and Russian aggression in Donbas. In addition, Poland is at the forefront of countries that oppose the completion of Nord Stream 2 project, sharing Ukraine's position that the pipeline is primarily an instrument of pressure on European countries.
"We rely on Poland's continued activity on issues important for the security of our region. We hope that Warsaw's support and participation in the work of the Crimean Platform will be no less active," Deshchytsia summed up.
As reported, the Lublin Triangle was launched in July this year during a visit to the Polish city of Lublin of foreign ministers of Ukraine, Poland and Lithuania Dmytro Kuleba, Jacek Czaputowicz and Linas Linkevičius.
ol