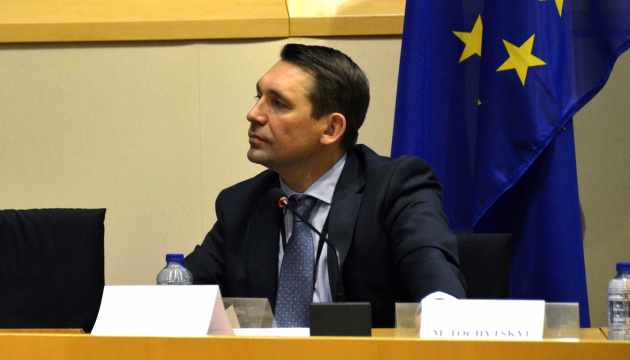 Tochytskyi: Ukraine, Georgia and Moldova can consolidate Eastern Partnership
The EU's Eastern Partnership policy has great potential, and the Association trio – Ukraine, Georgia and Moldova – can play a consolidating role in this program.
"We continue to work on the tasks [of preparation] for the summit. The three associate members and participants of the Eastern Partnership do not give up opportunities to maintain a dialogue. We have quite serious developments in terms of the economy, in terms of information exchange, in infrastructure projects. Ukraine, Georgia and Moldova can become the unifying element so that other [countries] catch up also," Mykola Tochytskyi, Ambassador of Ukraine to the Kingdom of Belgium, Representative of Ukraine to the European Union, said at an online briefing on December 21.
He stressed that Ukraine cannot hold aloof from the problems faced by partners: "We cannot ignore the problems that exist in Belarus. As a GUAM member state, we maintain contacts with our Azerbaijani colleagues. In this context, we are also trying to have a constructive dialogue, so far without "big politics", with our European colleagues – on the tasks and achievements of the Eastern Partnership summit, for all the positive developments of the partner countries be highlighted, supported and expanded during the March summit [of the Eastern Partnership]," Tochytskyi noted.
In March 2021, the EU and partner countries intended to hold a summit to discuss the prospects of this program for the next 10 years. However, the crisis in Belarus has led to a complete overhaul of relations between the EU and the country and the imposition of sanctions on officials of the Lukashenko regime. It is also obvious that the conflict between Armenia and Azerbaijan over Nagorno-Karabakh will also affect the EaP projects.
The Eastern Partnership is a policy of the European Union, launched in 2009, which aims to develop cooperation between the EU and Ukraine, Moldova, Belarus, Georgia, Armenia and Azerbaijan. In June of this year, at a meeting of leaders of the Eastern Partnership and the EU via a video conference, President Zelensky noted that the EaP is useful for Ukraine as it promotes its European Union membership.
ol