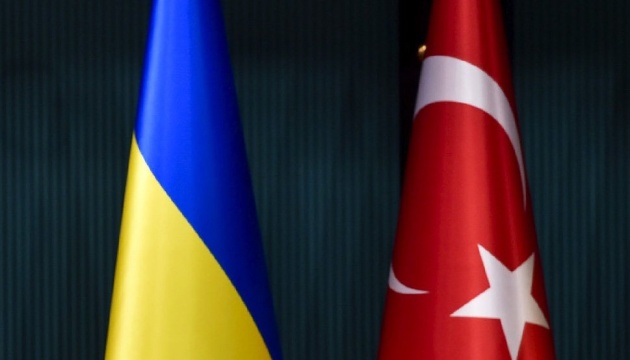 Ukrainian prime minister meets with Turkish foreign, defense ministers
Ukrainian Prime Minister Denys Shmyhal has met with Turkish Foreign Minister Mevlut Cavusoglu and Minister of National Defense of Turkey Hulusi Akar, the Ukrainian government's press service has reported.
According to the report, the parties discussed bilateral cooperation, international policy and cooperation in the field of defense and security. The meeting, which took place on December 18, was also attended by Ukraine's Deputy Prime Minister, Minister for Strategic Industries Oleh Urusky, Ukrainian Defense Minister Andriy Taran, Minister for Economic Development, Trade and Agriculture of Ukraine Ihor Petrashko, and other officials.
Shmyhal welcomed the holding of political and security consultations at the level of the heads of the foreign and defense ministries of Ukraine and Turkey in the quadrilateral format. According to him, this is a sign of "a special partnership between the countries."
Shmyhal also stressed that Turkey is a reliable partner for Ukraine and plays an important role in maintaining stability and security in the Black Sea region.
"The security situation in the Black Sea region should be a priority area in Ukrainian-Turkish cooperation. After all, stability and security are the key to the successful development of business contacts and international trade in general," Shmyhal said.
He expressed hope that the issue of de-occupation of the Autonomous Republic of Crimea and Donbas would remain in the focus of bilateral cooperation between Ukraine and Turkey. He also thanked Turkey for its readiness to cooperate within the Crimean Platform initiative.
Shmyhal stressed that one of the most important issues on the agenda of bilateral relations between Ukraine and Turkey is the completion of negotiations on a free trade agreement. According to him, following his visit to Turkey, instructions were given to the concerned ministries and agencies of Ukraine, which should take additional measures to complete the negotiations as soon as possible.
"I am convinced that increasing the annual trade between our countries to at least $10 billion is a good goal for expanding our economic cooperation," he said.
Shmyhal also stressed that Ukraine's Euro-Atlantic course remains unchanged and thanked Turkey for supporting NATO's decision to involve Ukraine in the Enhanced Opportunities Partnership program.
Shmyhal thanked Turkey for its continued support for Ukraine's sovereignty and territorial integrity.
op