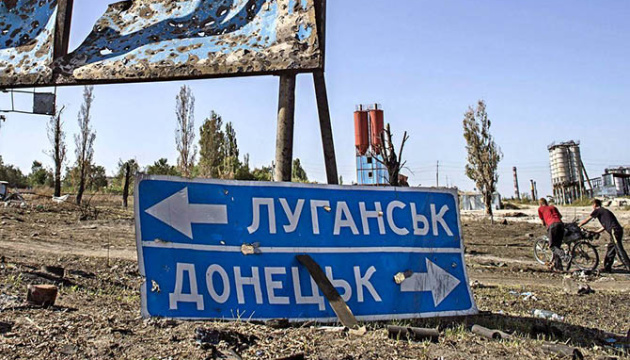 Ukraine reacts at OSCE to Tolstoi's statement on 'Ukraine as a part of Russia'
A statement by Deputy Chairman of the Russian State Duma Piotr Tolstoi that Ukraine is a part of Russia "reveals the essence of Russia's aggressive actions" against Ukraine, the Permanent Mission of Ukraine to the International Organizations in Vienna has reported.
According to an Ukrinform correspondent, the report was made during this year's last regular meeting of the OSCE Permanent Council on December 17.
While discussing Russia's ongoing aggression against Ukraine and the illegal occupation of Crimea, the Ukrainian delegation responded to the following statement made by Tolstoi on December 10: "We discuss here the problems of Ukraine, because this is a part of Russia. We discuss the problems of Ukraine because they are the same Russian people, who were subjected to some kind of experiment, which was finalized for them, but failed for us."
"This statement reveals the essence of Russia's aggressive actions against the territorial integrity and sovereignty of Ukraine: the Russian leadership simply does not take Ukraine as a separate sovereign country. What we have been witnessing in the last almost seven years in Crimea and Donbas is the direct result of this attitude," the Ukrainian delegation said.
This is also the reason for the lack of progress in negotiations within the Normandy Format and the Trilateral Contact Group: the Russian side has simply no interest to end the conflict unless Ukraine capitulates fully to the Kremlin's demands.
The Ukrainian delegation to the OSCE stressed the need for "a resolute coordinated stance by the international community" in order to keep Russia at the negotiating table and push it towards a peaceful resolution of the conflict it had initiated and continues to fuel.
"In this vein, we welcome the recent political decision of the European Council to extend economic and sectoral sanctions against Russia for the next six months. The policy of non-recognition and restrictive measures in response to violations of Ukraine's sovereignty and international law must remain in place, to demonstrate the aggressor state that its actions are not ignored," the Ukrainian delegation said.
op