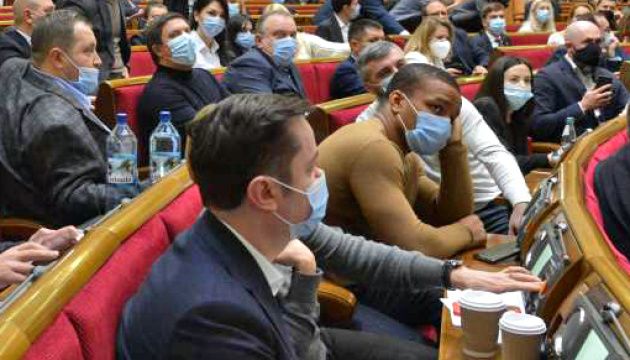 Verkhovna Rada adopts state budget for 2021
The Verkhovna Rada has approved Ukraine's state budget for 2021, with revenues projected at UAH 1.092 trillion, expenditures at UAH 1.328 trillion, and the budget deficit at 5.5% of GDP.
According to an Ukrinform correspondent, 289 MPs voted for a respective decision at a parliament meeting on Tuesday, December 15.
The document envisages GDP growth at 4.6%, consumer inflation at 7.3%, and the level of public debt to GDP set at 64.6%. The average annual exchange rate of the U.S. dollar for 2021, according to which the state budget is calculated, is UAH 29.1 per U.S. dollar.
The minimum wage is expected to grow to UAH 6,000 from January 1, 2021 and to UAH 6,500 from December 1, 2021. The living wage is set at UAH 2,189 from January 1, UAH 2,294 from July 1, and UAH 2,393 from December 1.
The document proposes to establish the minimum pension for people who have lost their ability to work at UAH 1,769 from January 1, UAH 1,854 from July 1, and UAH 1,934 from December 1.
The average monthly salary is projected at UAH 13,632 and the unemployment rate at 9.2%.
UAH 267 billion is to be earmarked for security and defense, including UAH 116 billion for the Defense Ministry. The Interior Ministry will receive about UAH 98 billion. Spending on education is projected at UAH 174 billion, including UAH 21.2 billion to be paid to teachers. Expenditures on the health care sector amounted to UAH 159 billion, with salaries of health workers expected to grow by 30%. UAH 123.4 billion is to be spent on the program of medical guarantees and UAH 19.4 billion is to be spent on the fight against the coronavirus disease, including UAH 2.6 billion on COVID-19 vaccinations (if the vaccine appears by that time).
It is planned to allocate UAH 150 billion for the Great Construction program (the development of road infrastructure). UAH 12 billion is planned for small and medium business support programs, including UAH 10 billion for the implementation of the portfolio guarantee program and UAH 2 billion to compensate for interest on loans for micro and small businesses.
Next year's privatization should bring the budget UAH 12 billion.
On November 26, the Cabinet of Ministers approved the draft state budget for 2021 for its second reading and sent the document to the Verkhovna Rada for consideration.
op