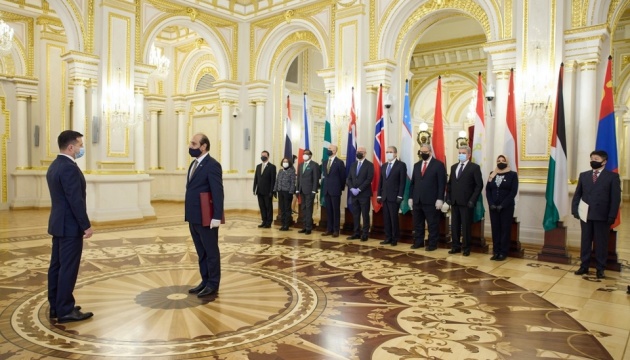 Zelensky receives credentials from ambassadors of 11 countries
Ukrainian President Volodymyr Zelensky has received credentials from the newly appointed ambassadors of Uzbekistan, Norway, Egypt, Australia, Tajikistan, Pakistan, Yemen, the Philippines, Jordan, Thailand and Mongolia, the head of state's press service reports.
"Today, ambassadors from four continents are present here, and this is another evidence that Ukraine seeks to develop cooperation with all countries of the world," the President said, congratulating the diplomats on the beginning of their mission in Ukraine.
Zelensky expressed hope for intensifying cooperation with these states at all levels for the benefit of citizens. "Being on the path of large-scale reforms, Ukraine is sincerely interested in dialogue and development of partnership with each of your wonderful countries," he said.
The head of state stressed that the newly appointed heads of diplomatic missions would open a new page in constructive relations between Ukraine and international partners.
During the ceremony, the President of Ukraine received credentials from Ambassador of the Republic of Uzbekistan Alisher Kurmanov, Ambassador of the Kingdom of Norway Erik Svedahl, Ambassador of the Arab Republic of Egypt Ayman Ahmed Mokhtar El-Gammal, Ambassador of Australia Bruce Edwards, Ambassador of the Republic of Tajikistan Nazrizoda Davlatali, Ambassador of the Islamic Republic of Pakistan Noel Israel Khokhar, Ambassador of the Republic of Yemen Mervat Fadhl Mojali, Ambassador of the Republic of the Philippines Leah M. Basinang-Ruiz, Ambassador of the Hashemite Kingdom of Jordan Ismail Ar-Rifaie, Ambassador of the Kingdom of Thailand Chettaphan Maksamphan and Ambassador of the Republic of Mongolia Dorj Barkhas.
ish