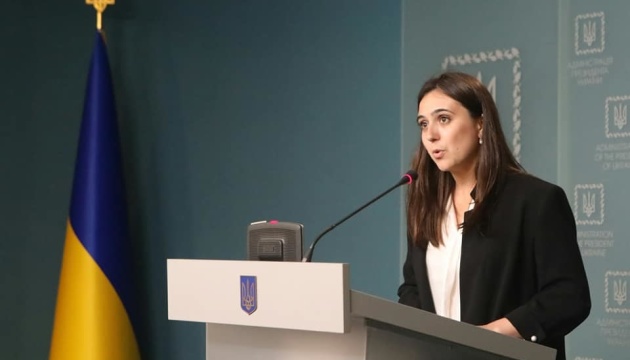 Ukraine has fulfilled all conditions put forward at Normandy format meeting in Paris
Ukraine has fulfilled all the conditions put forward at the Normandy format meeting in Paris last year.
It would be possible to do more and to implement the agreements faster if everything depended only on the Ukrainian side, President's Spokesperson Yulia Mendel said in a commentary to Ukrinform.
"Over the year, Ukraine has fulfilled all the conditions put forward at the Normandy format meeting on December 9, 2019. Could we do more and faster? Of course, if the situation depended solely on the Ukrainian side. However, despite rumours circulating in the media that Russia allegedly refuses to participate in the Normandy format, Russia reaffirmed its readiness to continue working in the Normandy format during a phone conversation between Russian President Vladimir Putin and German Chancellor Angela Merkel on December 7," Mendel said.
In addition, referring to Merkel-Putin conversation results, the President's Spokesperson added that the Russian side also declared "readiness for further cooperation within the OSCE Minsk Group."
In her opinion, this gives some confidence and hope that peace will come to eastern Ukraine.
At the same time, 200 prisoners, illegally detained in occupied Donbas, Russia and Crimea, have been released since the Normandy format leaders' meeting in Paris, Mendel stressed.
Over this period, an agreement on ceasefire in Donbas was reached and has been in force since July 27. The agreement has saved hundreds of lives of Ukrainian military and civilians.
"Yes, it [ceasefire regime] cannot be called absolute. Yes, violations are committed. We have suffered several combat losses. But the lives of real people have been saved during the effect of this agreement. Over the same period a year ago, one Ukrainian serviceperson died every 72 hours on average. Now there are weeks, months with no soldiers killed or wounded. Thus, the period from July 27, 2020 till the present day cannot be compared with any other period of the Donbas war over the past seven years.
In addition, the bridge near Stanytsia Luhanska was restored after the Paris meeting, allowing locals to cross the contact line in decent conditions after years of humiliation; new points of disengagement of troops and hardware are created, locations for possible humanitarian mine action are marked; the existing border crossing points were reconstructed and new ones were created in Luhansk region.
"Ukraine maintains and provides the entire social package for its citizens from the occupied territories, who can receive all necessary social services in the government-controlled territory (including pensions, other payments, issuance of documents, etc.)," Mendel said.
On December 9, 2019, a summit of leaders of the Normandy format countries – Ukraine, France, Germany and Russia – took place in Paris.
ol