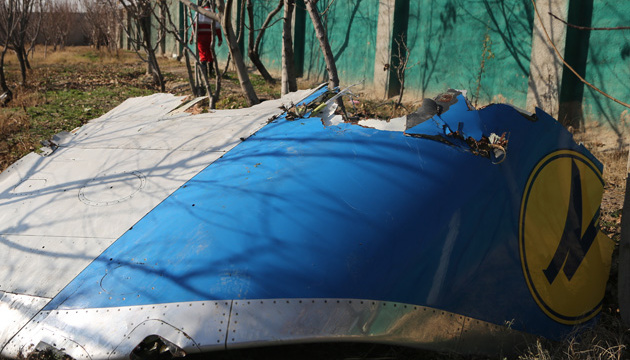 Ukraine to insist on Iran's compliance with obligations to investigate UIA plane crash
Ukraine will insist on Iran's compliance with the agreements on the impartial investigation into the UIA plane crash near Tehran.
"We demand an impartial investigation, and the Iranian side confirms the same in words. At the same time, the promises still remain unfulfilled. That is why, in the coming days we will once again get in touch with the Iranian side and insist on the implementation of the agreements reached. Reaching agreements and not fulfilling them is absolutely counterproductive, and that is why we would not like to maintain the appearance of a constructive dialogue if we do not succeed in such a dialogue," Deputy Foreign Minister of Ukraine Yevhenii Yenin said on the air of Ukraine 24 TV channel.
At the same time, he noted that Ukraine still relies on Iran's goodwill and will insist that the Iranian side fulfils its international obligations.
Yenin assured that the Ukrainian side will use all opportunities of the bilateral negotiation process to achieve justice in the case of the UIA plane crash. However, if the negotiation process comes to a standstill and all possibilities of negotiations with the Iranian side are exhausted, Ukraine will use all available mechanisms to protect violated rights, including appeals to the UN International Court of Justice, the deputy minister said.
As reported, Deputy Prosecutor General Giunduz Mamedov said that the Ukrainian investigation had not received the files and evidence in the case of the downing of the UIA flight PS752 which Iran promised to present.
On January 8, 2020, Ukraine International Airlines Flight PS752 was shot down near Tehran by an Iranian surface-to-air missile, killing 176 people, including nine crew members (all Ukrainians) and 167 passengers (citizens of Ukraine, Iran, Canada, Sweden, Afghanistan, Germany, and the UK).
On July 18, France's Civil Aviation Safety Investigation Authority received Flight PS752's recorders from Iran. Ukraine's Deputy Prosecutor General Yevhenii Yenin said later that the transcript from Flight PS752's recorders had confirmed illegal interference with the plane.
The Prosecutor General's Office of Ukraine initiated criminal proceedings over premeditated murder, destruction of property and violation of air traffic safety rules.
ol