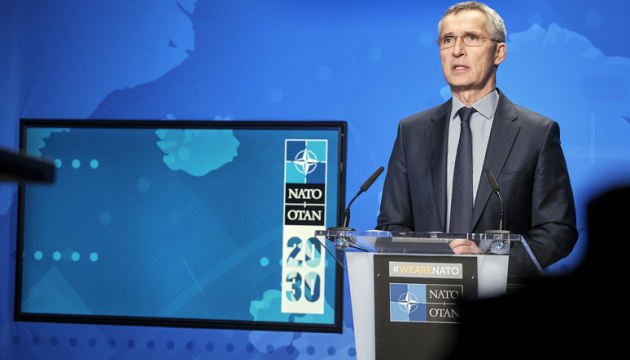 Stoltenberg: Disputes with Hungary do not hinder Ukraine-NATO meetings
The bilateral dispute between Hungary and Ukraine needs to be resolved at bilateral level, while NATO and Ukraine have reaffirmed their ability to hold ministerial meetings to discuss issues of common concern.
"I will not go into the details of a classified discussion at the NATO ministerial meeting. But what I can say is that it's well known that there is a bilateral dispute between Hungary and Ukraine. And I hope that the two countries will be able to solve this bilateral dispute. But I think the meeting today demonstrates that we are able to continue to, of course, strengthen our partnership with Ukraine. We are able to provide more support and we also are able to meet at the ministerial level to discuss issues of common concern," NATO Secretary General Jens Stoltenberg said following the second day of the meetings of NATO Ministers of Foreign Affairs.
He informed that the foreign ministers of Georgia and Ukraine joined their NATO counterparts during the second session. The parties discussed the security situation in the Black Sea region, where Russia continues to build up its military capabilities and violate the territorial integrity of Georgia and Ukraine which are valued NATO partners in this region.
As reported, Ukraine's Security Service officers conducted authorized searches in the premises of a charity fund in Zakarpattia region, during which printed materials promoting the so-called "Greater Hungary" and the creation of ethnic autonomy in Zakarpattia region were found. The defendants are also suspected of financial abuse and fraud.
On November 25, Ukraine's ambassador to Hungary Liubov Nepop was summoned to the Ministry of Foreign Affairs of Hungary after Hungary's ministerial commissioner István Grezsa had been banned from entering Ukraine.
The day before, Minister of Foreign Affairs of Ukraine Dmytro Kuleba said that Ukraine had banned two high-ranking Hungarian officials from entering the territory of Ukraine, adding that a few more Hungarians, who had been actively interfering in the Ukrainian elections, could be banned from entering Ukraine as well.
The Hungarian side, using a NATO principle of consensus decision-making, has been blocking NATO-Ukraine Commission meetings at the state level for several years, blaming Ukraine for violating the rights of ethnic Hungarians in the Ukrainian Zakarpattia region.
ol