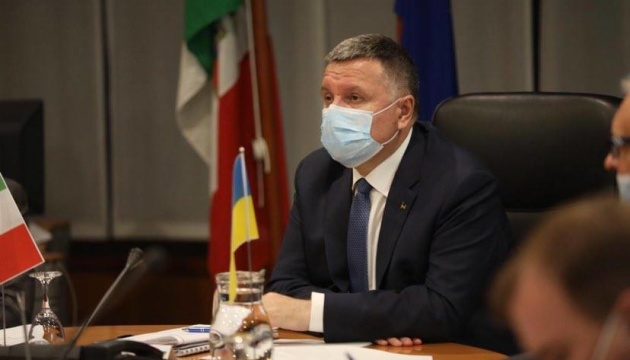 Avakov calls for full three-week lockdown in Ukraine
Ukrainian Interior Minister Arsen Avakov has called for the introduction of a full lockdown in Ukraine as soon as possible for at least three weeks.
He stated this live on the Ukraine 24 television channel, according to an Ukrinform correspondent.
"My personal point of view is that a lockdown, lasting three or four weeks, should be introduced as soon as possible. I believe that as soon as we are ready - and I hope it will happen in the coming days – we need to formulate in detail and in real terms the compensation program voiced by the president. We must immediately introduce a lockdown, break the chain of infection and try to preserve the health of our Ukrainians and to avoid a situation when we have more than 200 deaths every day," Avakov said.
He stressed that it was necessary to respond to the situation right now.
"Yes, it is very difficult for everyone. It is very difficult for the state. The budget is in a difficult, catastrophic state, but the risks are such that serious decisions need to be made now. They might be unpopular for certain segments of the population […] but my point of view is that I support an immediate radical lockdown for at least three weeks," Avakov said.
According to him, the government will consider this issue in the coming days.
On November 11, the Cabinet of Ministers introduced a weekend lockdown in Ukraine from November 14 to 30. According to a government resolution, from 00:00 on Saturday to 00:00 on Monday, in addition to the restrictions provided for on weekdays, it is prohibited to receive visitors in catering establishments - bars, restaurants, cafes.
The activity of gyms, fitness centers and swimming pools is also prohibited. Shopping malls, other entertainment establishments and cultural institutions that hold cultural events should be closed.
op