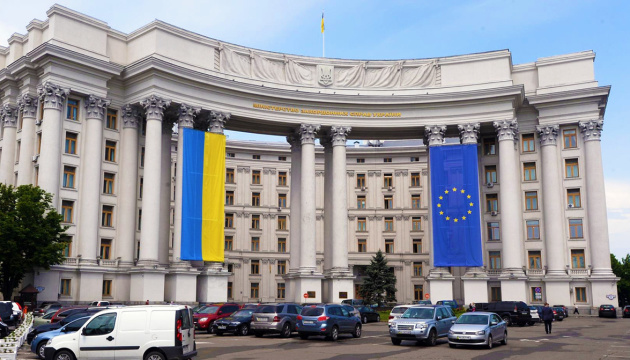 Ukraine welcomes end of hostilities in Nagorno-Karabakh – Foreign Ministry
Ukraine welcomes the cessation of hostilities between Azerbaijan and Armenia in the region of the Nagorno-Karabakh conflict.
The Foreign Ministry of Ukraine said this in a statement in connection with the settlement of the Nagorno-Karabakh conflict.
"We believe that the next step should be restoring the stability and vitality of the region, as well as continuing international efforts to achieve a full settlement of the Nagorno-Karabakh conflict on the basis of international law," reads the statement.
The Foreign Ministry reminded that Ukraine invariably and unconditionally supports the territorial integrity of the Republic of Azerbaijan within its internationally recognized borders.
"This principle is fundamental for Ukraine, which is still suffering from Russian aggression, and part of its territory remains under the temporary occupation of Russia," Ukrainian diplomats stressed.
On November 9, Prime Minister of Armenia Nikol Pashinyan announced the signing of a joint agreement with the presidents of Russia and Azerbaijan on the cessation of hostilities in Nagorno-Karabakh.
According to the agreement, the Republic of Azerbaijan and the Republic of Armenia will stay on the positions they hold. A peacekeeping contingent is deployed along the contact line and the corridor connecting Nagorno-Karabakh with Armenia.
Armenia and Azerbaijan launched hostilities in Nagorno-Karabakh on September 27, accusing each other of shelling border areas and provoking violence. Both countries declared martial law and mobilization. Combat actions caused military casualties on both sides and numerous civilian casualties.
iy