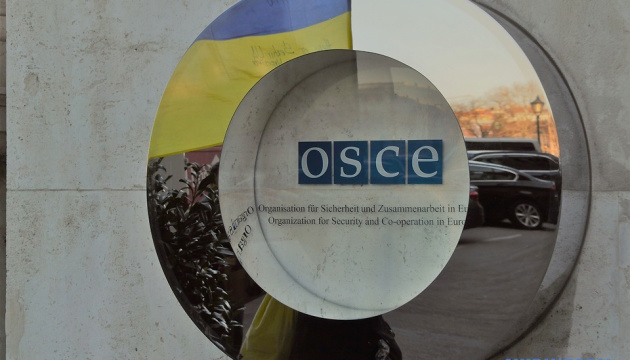 Naive to believe Russian convoys to Donbas are 'humanitarian' – U.S. at OSCE
It would be naïve to believe Russia's claims that its convoys that illegally cross into the non-government-controlled area in Donbas are "humanitarian" in nature, according to U.S. Ambassador to the OSCE James Gilmore.
"The participating States of this Permanent Council would be naïve, to say the least, if we were to accept Russia at its word that this convoy was 'humanitarian' in nature. To do so, we would have to overlook the obvious truth that Russia fomented and for more than six years has financed and led this bloody conflict in eastern Ukraine," he said at a meeting of the OSCE Permanent Council in Vienna on Thursday, November 5.
According to him, the fact that Russia continues to deliver what it claims to be humanitarian aid shipments in such a non-transparent manner "can only lead us to conclude that these vehicles contain something the Kremlin would rather keep hidden."
Gilmore said that the convoy that entered the occupied Donbas on October 29 was the 97th - and all of these convoys were not inspected by OSCE observers and Ukrainian border guards or customs officials.
"Russia's efforts to conceal the contents of its convoys and limit the scope of the Observer Mission must be assumed to be part of its broader campaign of obstruction and deception," the diplomat said, calling upon Russia to deliver any legitimate humanitarian aid in a transparent manner.
On October 29, the Ukrainian Foreign Ministry expressed its strong protest to the Russian Federation in connection with another illegal act by the Russian side against the sovereignty of Ukraine.
The Russian side illegally moved to Ukraine the so-called "humanitarian convoy" for the population in the territories of Donetsk and Luhansk regions of Ukraine temporarily occupied by the Russian Federation.
The "convoy" crossed the Russian border checkpoints Donetsk and Matveyev Kurgan and the checkpoints Izvaryne and Uspenka that were closed by Ukraine. At the same time, the Russian side made it impossible for Ukrainian border guards and customs officers to carry out mandatory control procedures in line with the legislation of Ukraine and norms of international law, including bilateral international agreements.
op