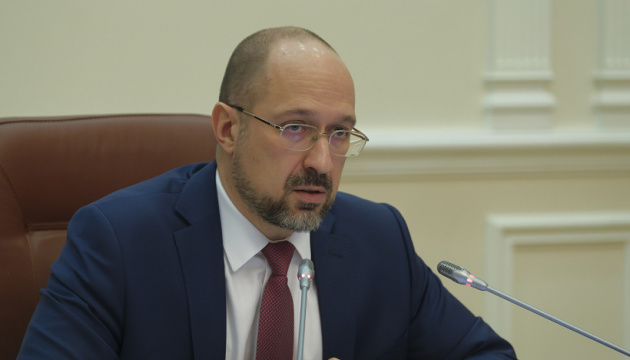 Situation with Constitutional Court will not affect cooperation with IMF - Shmyhal
Ukrainian Prime Minister Denis Shmyhal has said that the situation with the Constitutional Court will not affect Ukraine's cooperation with the International Monetary Fund (IMF).
He said this in Kyiv on Thursday, November 5, when asked by journalists whether the situation with the Constitutional Court will affect Ukraine's cooperation with the IMF, according to an Ukrinform correspondent.
"No, it won't, because Ukraine clearly declares and shows its European intentions. It intends to continue and actively pursue anti-corruption reform, as well as all the reforms that are enshrined in our international obligations," Shmyhal said.
At the same time, he noted that the IMF is concerned about the current situation and understands Ukraine's reform aspirations, so it does not affect the financing and implementation of the program.
On October 27, the Constitutional Court repealed Article 366-1 of the Criminal Code on penalties for lies in asset declarations and some provisions of the law "On Corruption Prevention." In particular, the Constitutional Court declared unconstitutional the powers of the National Agency on Corruption Prevention (NACP) to verify officials' asset declarations, monitor the lifestyle of those who submit asset declarations, establish the timeliness of submission of asset declarations, as well as provisions on open access to declarations in the unified state register.
In connection with the decision of the Constitutional Court, President Volodymyr Zelensky held a meeting of the National Security and Defense Council on October 29 to determine measures for the state's immediate response to new threats and challenges to national security and defense. The decision was made at the meeting to reopen public access to the unified state register of asset declarations, to ensure the holding of special verifications by the NACP.
In addition, Zelensky tabled in the Verkhovna Rada his bill "On Renewal of Public Confidence in Constitutional Judiciary" (No. 4288), which proposes to terminate the powers of the current composition of the Constitutional Court.
The bill also proposes to recognize that the Constitutional Court ruling of October 27 is null and void (not creating any legal consequences) as it was adopted by the judges of the Constitutional Court amid a real conflict of interest.
On the evening of November 2, a group of MPs from several factions led by Razumkov registered bill No. 4304 "On Resuming the Effect of Certain Provisions of the Law of Ukraine on Corruption Prevention and the Criminal Code of Ukraine." The document provides for the introduction of amendments to the law "On Corruption Prevention," which proposes to restore the NACP's rights.
op