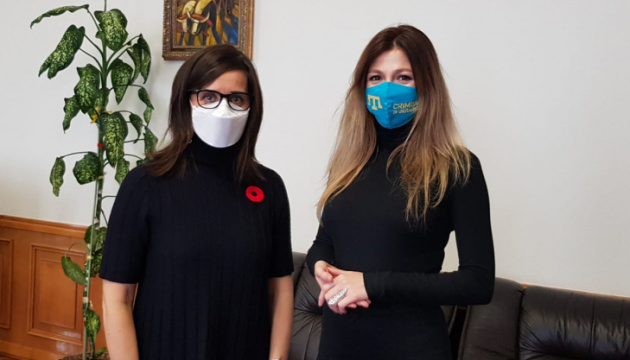 Dzheppar, Galadza discuss creation of Crimean Platform
First Deputy Minister of Foreign Affairs of Ukraine Emine Dzheppar discussed the creation of the Crimean Platform with Ambassador of Canada to Ukraine Larisa Galadza.
"The focus was on the work of the Ukrainian side with international partners to create and fill the Crimean Platform with practical content and the participation of the Government of Canada in this process. The parties agreed that the platform serves as a strong signal of the international community's support for Ukraine and a reminder to Russia, as an occupying country, that the occupation of Crimea cannot and will not be forgotten," the Ministry's press service informed following the meeting of diplomats.
In this regard, Ambassador Galadza made it clear that the stance of the Government of Canada on Crimea would never change and Canada would continue to make every effort to uphold Ukraine's sovereignty and territorial integrity.
Dzheppar informed the Ambassador about the current situation in Crimea, propaganda conducted by the Russian occupiers among the peninsula residents, violation of the rights of Ukrainians and Crimean Tatars, including the right on education, ban on broadcasting Ukrainian channels, militarization of Crimea and more.
Dzheppar and Galadza also discussed the agenda of bilateral cooperation within international organizations and gender issues and agreed to continue effective cooperation to promote gender equality and feminization of the Ukrainian diplomatic service.
ol