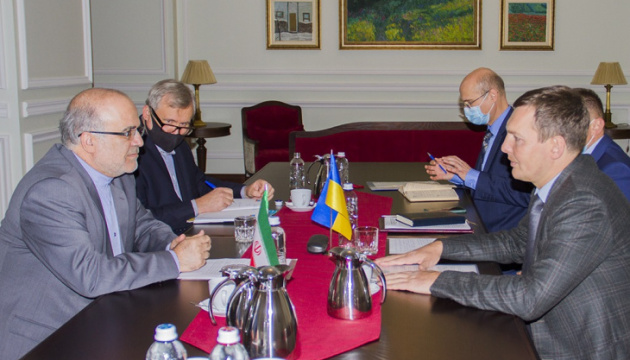 UIA plane crash: Iran ready to settle related issues during next round of talks
Iran is ready to settle the issues related to the downing of the UIA plane as soon as possible and in a mutually acceptable manner during the next round of talks in late November and early December.
Ambassador of the Islamic Republic of Iran to Ukraine Manouchehr Moradi made a corresponding statement at a meeting with Deputy Foreign Minister of Ukraine Yevhenii Yenin, which took place at the request of the Iranian diplomat, the press service of the Foreign Ministry informs.
As noted, the parties summed up the results of the second round of talks with Iran on the downing of the Ukraine International Airlines plane, as well as political consultations between the ministries of foreign affairs of Ukraine and Iran which took place in Tehran on October 19-20.
"The positive developments during the talks in Tehran confirm Iran's readiness to take full responsibility for the downing of the Ukrainian plane, as well as the political will of the Iranian leadership to a final and fair settlement of the related issues," Yenin said at the meeting.
The deputy minister pointed out the importance of an impartial and transparent investigation into all the circumstances of the Flight PS752 crash. The openness of the Iranian side will help ensure the necessary level of international confidence in the results of the technical and criminal investigation, which Iran intends to present in the near future.
"The Iranian ambassador assured of his readiness to settle the issues as soon as possible and in a mutually acceptable manner during the next round of talks scheduled for late November - early December 2020," the Ministry of Foreign Affairs of Ukraine informs.
On January 8, 2020, Ukraine International Airlines Flight PS752 was shot down near Tehran by an Iranian surface-to-air missile, killing 176 people, including nine crew members (all Ukrainians) and 167 passengers (citizens of Ukraine, Iran, Canada, Sweden, Afghanistan, Germany, and the UK).
On July 18, France's Civil Aviation Safety Investigation Authority received Flight PS752's recorders from Iran. Ukraine's Deputy Prosecutor General Yevhenii Yenin said later that the transcript from Flight PS752's recorders had confirmed illegal interference with the plane.
Negotiations on compensation for the downing of Flight PS752 took place in Kyiv on July 30 with the participation of the Iranian delegation.
The second round of talks with the Iranian side took place on October 19-20.
ol