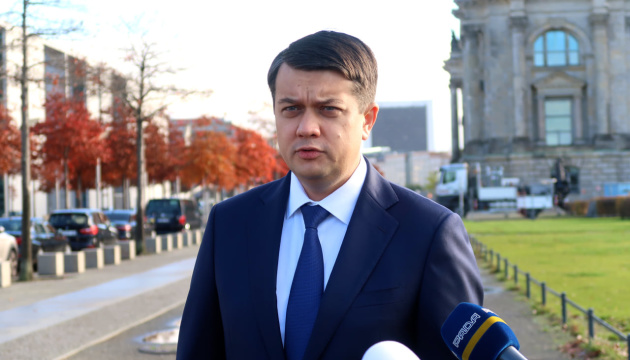 Razumkov: Ukraine seeks to get German multipartisan support
Speaker of the Verkhovna Rada of Ukraine Dmytro Razumkov has met with Deputy Leader of the Social Democratic Party parliamentary group Gabriela Heinrich during his working visit to Germany.
As Razumkov noted, Ukraine is interested in German multipartisan support to continue implementing reforms and moving along the European integration path. "Reforming the judiciary and combating corruption are key tasks for the Ukrainian authorities," Dmytro Razumkov said, the press service of the Verkhovna Rada of Ukraine informs.
Dmytro Razumkov thanked Gabriela Heinrich and the SDP parliamentary group for supporting Ukraine's territorial integrity and sovereignty within its internationally recognized borders, and noted that EU and NATO membership was a strategic goal of Ukraine's foreign policy. "This foreign policy course is enshrined in the Constitution of Ukraine and is supported by the majority of Ukrainians," he added.
As the Verkhovna Rada Speaker noted, Germany is Ukraine's largest trading partner among EU countries as Ukraine-Germany total turnover is almost $9.4 billion. "This fact convinces Ukraine that the development of economic relations with Germany should be one of our key priorities. Inter-parliamentary cooperation should be aimed at ensuring this development," Razumkov said.
Ukraine's investment potential is much greater than the figures released in recent economic reports, both in terms of investment opportunities, geographical proximity and logistical convenience, the Verkhovna Rada Speaker assured.
ol