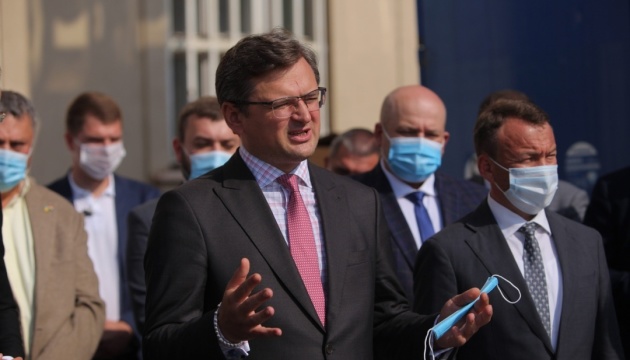 Zelensky-Orban meeting still on agenda – Ukrainian foreign minister
Ukrainian Foreign Minister Dmytro Kuleba has said he does not remove from the agenda the issue of a meeting between President Volodymyr Zelensky and Hungarian Prime Minister Viktor Orban due to Hungary's interference in Ukraine's local elections.
According to an Ukrinform correspondent, Kuleba said this at an online briefing on Thursday, October 29.
"As for the visit, no one has stopped relations between our countries. Yes, there's a difficult emotional and political moment now. But let the emotions subside. Each side scored its 'goals' - the Hungarians scored theirs; we scored ours. And we have to keep playing. Therefore, I do not remove from the agenda the issue of a meeting between President of Ukraine Volodymyr Zelensky and Prime Minister of Hungary Viktor Orban," he said.
Commenting on relations between Ukraine and Hungary, Kuleba recalled the positive dynamics - the restoration of trust and the return to the agenda of constructive issues of cooperation between the two countries.
"But then we entered the process of local elections, and unfortunately, our Hungarian colleagues decided to campaign a little for a Hungarian party in Zakarpattia region in this election. According to Ukrainian law, such campaigning is strictly prohibited, without any exceptions. When we recorded the facts of such campaigning, we have repeatedly warned our Hungarian colleagues to refrain from such steps in the future. Unfortunately, they have not heard us," Kuleba said.
According to him, "the quintessence of this whole process was the voting day, when some high-ranking Hungarian officials resorted to direct campaigning on the election day and thus violated Ukrainian law."
"I believe that every country should respect itself. And, of course, this is my position as foreign minister, no matter how good the relations with any country in the world are, but if that country shows contempt for your laws, your national interests, you have to answer. And that's why we answered. Our answer was tough and principled. We would have done the same in relation to any other state, not just Hungary. We have to defend our national interests and our sovereignty," Kuleba said.
On October 26, the Ukrainian Foreign Ministry handed Hungarian Ambassador Istvan Ijgyarto a note of protest against illegal political campaigning by Hungarian officials in favor of a political party in Ukraine's October 25 local elections.
Hungarian Foreign Minister Peter Szijjarto said that in this way Ukraine abandoned Hungary's support for its Euro-Atlantic integration efforts.
op