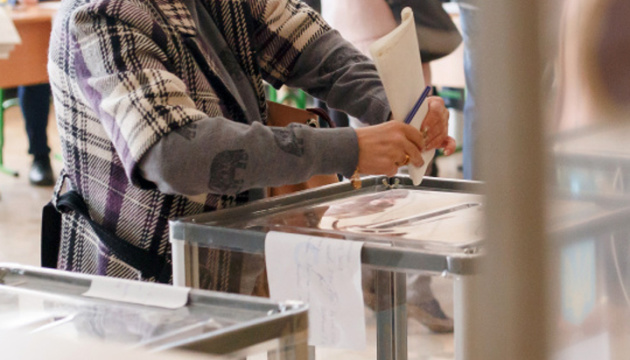 Local elections and nationwide poll held in Ukraine today
October 25, local elections are held in Ukraine to elect members of regional and district councils, as well as chairpersons and councils of territorial communities.
Due to the temporary annexation of Crimea by Russia in 2014 and the occupation of certain districts of Donetsk and Luhansk regions, the elections will not be held in the Autonomous Republic of Crimea, the city of Sevastopol and the temporarily occupied areas of Donetsk and Luhansk regions.
Simultaneously with the elections, a nationwide poll initiated by President Zelensky will be held. On October 13, the President published a video address, urging Ukrainians to come to the polling stations on October 25 and answer five questions:
Do you support the creation of a free economic zone in Donbas?
Should life imprisonment be introduced for large-scale corruption?
Should the number of members of the Verkhovna Rada be reduced to 300?
Do you support the legalization of medical cannabis in Ukraine to reduce the pain of seriously ill patients?
Should Ukraine raise the issue of the use of security guarantees set out in the Budapest Memorandum at the international level?
As the President's Office specified, the poll, unlike the referendum, will not have any direct legal consequences, is not part of the election procedure and will not be funded by election commissions.
In light of COVID-19 pandemic, the 2020 local elections will take into account medical safety requirements. People with fever or signs of illness will move along a separate path and use a separate booth. For those in isolation, voting at home will be organized with appropriate protective measures.
A person who refuses to wear a face mask will be allowed to vote separately from other voters. But then such a person will be fined for violating anti-epidemic norms. The anti-epidemic recommendations approved by the Government, in particular, include: having a pen to fill in the ballot and sign it; leaving minor children and animals at home, if possible; showing passport to commission members without handing it over.
The number of observers, representatives of political forces, journalists at polling stations will not be limited.
The estimated number of voters in Ukraine is 27.2 million, the number of polling stations - more than 29 thousand. Territorial election commissions will set the voting results by November 3.
The current elections will have a number of important features, as the new Electoral Code came into force on January 1, 2020.
First, voting under the majority system will take place only in territorial communities with less than 10,000 inhabitants, where self-nomination of candidates is possible. From two to four deputies can be elected from one constituency (previously, one constituency elected only one deputy).
Second, in the local councils of populated localities where more than 10,000 people live, only parties can nominate candidates, and voting will be based on an updated proportional system with open lists. Only parties that overcome the 5 percent threshold will receive the seats. In addition to a party from the proposed list, a voter will be able to vote for a specific candidate from the political force. Hence, the elected party members will be able to rise to the top of the list of their party.
To calculate how many votes each winning party received, the concept of "electoral quota" is introduced. In particular, a special formula is used to determine how many votes account for one mandate. The next step is to determine how many mandates the party receives for a single (town) electoral list and which of its nominees will fill the number of seats won.
Open lists, on the one hand, significantly increase intra-party competition and, on the other hand, create additional difficulties for voters. The system is new, it has already received a lot of criticism, but its advantages or disadvantages will become clear only after the election procedure ends.
Third, voting for mayors in the towns with a population of more than 75,000 people will have a second round. That is, to become a mayor in such towns, a candidate must receive not a simple, as before, but an absolute majority of votes - more than 50% of votes in the first round. If no candidate receives such a majority, the two candidates with the highest number of votes will go into a second round. To become a winner, a candidate must receive a simple majority in the second round, not necessarily more than 50%.
ol