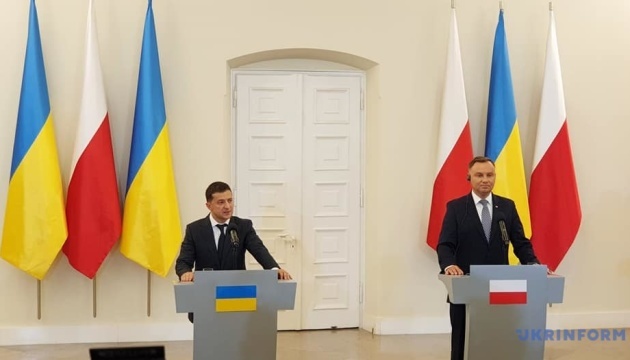 Zelensky, Duda discuss Ukraine's accession to Three Seas Initiative
Ukrainian President Volodymyr Zelensky and Polish President Andrzej Duda have discussed Ukraine's desire to join the Three Seas Initiative.
According to an Ukrinform correspondent, Zelensky said this at a joint briefing with Duda in Kyiv on Monday, October 12.
"We discussed the Three Seas Initiative and, most importantly, Ukraine's substantive interest in joining this important initiative. I hope for the support of Mr. Duda as one of the initiators of such an important dialogue platform," Zelensky said.
Launched in 2015 by Polish President Andrzej Duda and Croatian President Kolinda Grabar-Kitarovic, the Three Seas Initiative, i.e. the creation of a partnership bloc from the Baltic Sea to the Black and Adriatic Seas, is aimed at deepening the integration of Central and Eastern Europe.
The project unites 12 countries of Central and Eastern Europe: four Visegrad Group countries, the Baltic States, Austria, Croatia, Romania, Slovenia, and Bulgaria. All member states except Austria have several common denominators, such as the recent communist past and NATO membership prior to EU accession. Austria, which has been in the EU longer, is involved due to its strategic location and many important regional links. The first inaugural summit of the Three Seas took place in Dubrovnik on August 25-26, 2016. Ukraine was also invited to the event, but the country did not delegate its representative.
The second summit took place in Warsaw on July 6-7, 2017, and was attended by U.S. President Donald Trump.
The third summit took place in Bucharest on September 17-18, 2018, and was attended by European Commission President Jean-Claude Juncker, German Foreign Minister Heiko Maas, and U.S. Secretary of Energy Rick Perry.
In November 2019, before meeting with President of Estonia Kersti Kaljulaid, Zelensky said that Ukraine was interested in joining the Three Seas Initiative and intended to discuss this issue with Estonian partners.
op