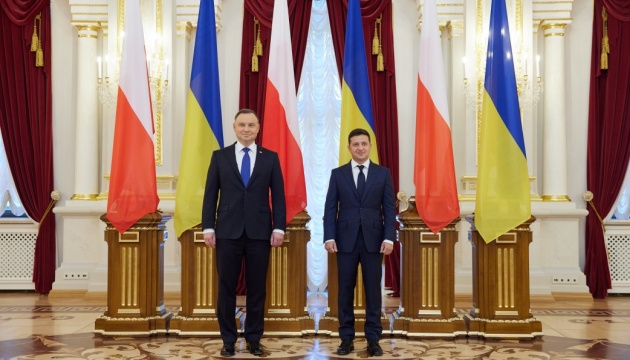 Zelensky sure no one will be able to set Ukraine and Poland against each other
Ukrainian President Volodymyr Zelensky has said he is confident that no one will be able to set Ukraine and Poland against each other and that friendship and mutual respect will always be the basis of relations between the two countries.
Zelensky said this at a joint briefing with Polish President Andrzej Duda in Kyiv on Monday, October 12, according to an Ukrinform correspondent.
"Mr. Duda and I are sure that Ukraine and Poland cannot coexist other than in peace, concord, friendship and, most importantly, mutual respect. We must always remember that many of our enemies dream of setting Ukraine and Poland against each other, but we can tell them only one thing – your dream will not come true," Zelensky said.
He said he was sure that there could be no disputes between Ukraine and Poland at all, except for one - in which Ukrainian and Polish cities the two countries may co-host the Winter Olympic Games or the World Cup.
Polish President Andrzej Duda and his wife, Agata Kornhauser-Duda, are on an official visit to Ukraine on October 11-13.
Zelensky paid a working visit to Poland on January 26-27.
Duda last visited Ukraine in 2017.
In July, Duda was elected President of Poland for a second term. In his second presidential term, Duda paid his first foreign visit to Italy and the Vatican, and is making his second foreign trip to Ukraine.
op