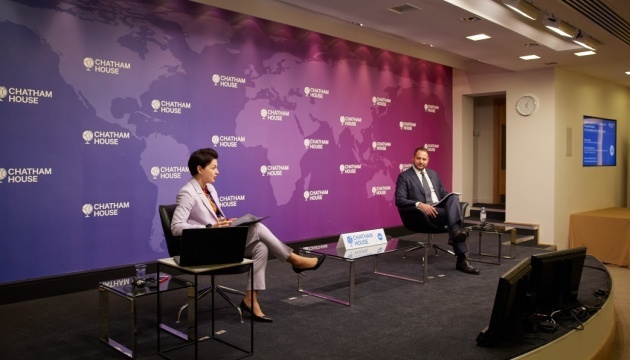 Ukraine using all possible negotiating platforms to end war in Donbas - Yermak
Ukraine is fully complying with the agreements reached at the Normandy Four summit in Paris last year, and the Russian Federation must also honor its commitments, according to Head of the President's Office Andriy Yermak.
He said this in his speech at the Royal Institute of International Affairs (Chatham House) in London, the presidential press service reported.
"Today, no country that supports Ukraine has any doubt that something has not been done on our part," Yermak said.
According to him, Russia must also fulfill the previously reached agreements.
"Either Russia is really ready to end this war, or it must say that it is not ready for this," he said.
He said that President Volodymyr Zelensky visits Ukrainian military positions on the front line almost every two weeks and personally communicates with the military.
"Ukraine is at war today, and it is very important for us to be careful and balanced in order to advance Ukraine's interests in real life, use all possible platforms for negotiations, and reduce tensions. And in the end, all this is done to save the lives of our people," Yermak said.
He recalled that since the December 2019 summit of the leaders of the Normandy Four countries in Paris, an agreement had been reached on four new disengagement areas on the contact line in Donbas and on 20 demining sites.
A Ukrainian delegation led by President Volodymyr Zelensky paid an official visit to the United Kingdom on October 7-8.
On July 22, the Trilateral Contact Group agreed on a full and comprehensive ceasefire in Donbas from July 27. In particular, the agreements provide for a ban on offensive and reconnaissance operations, a ban on the use of fire, including sniper fire, and the application of disciplinary measures for ceasefire violations.
Photo: President's Office