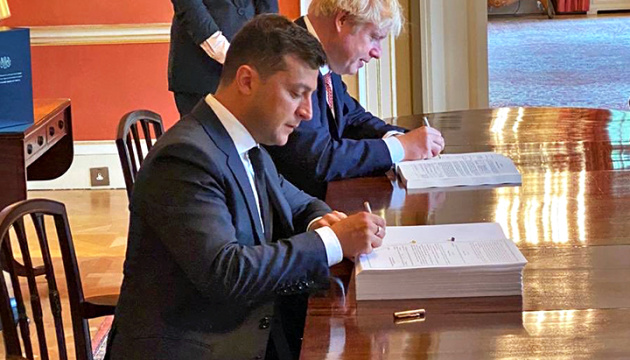 Kuleba: Ukraine, UK sign partnership and trade agreement
Ukraine and the United Kingdom of Great Britain and Northern Ireland have signed the Agreement on Political Cooperation, Free Trade, and Strategic Partnership.
"A landmark agreement on free trade and strategic partnership between Ukraine and the United Kingdom has just been signed," Minister of Foreign Affairs of Ukraine Dmytro Kuleba said in Facebook Live video.
As noted, the agreement was signed by President of Ukraine Volodymyr Zelensky and Prime Minister of the United Kingdom Boris Johnson.
This is the first such agreement signed by the UK after Brexit, Kuleba stressed.
"The agreement is very large, it has infinite number of pages, it is the result of a very long, fruitful work… The conditions have been created so that the trade between our countries develops and reaches a new level," the minister said.
At the same time, Kuleba noted that he offered his British colleagues and they supported the idea to ​​launch a special technical assistance program for Ukraine to teach Ukrainian business, primarily, small and medium-sized business how to trade with Britain and use the opportunities created by the agreement.
"Europe has two flanks. Great Britain is a western flank, and Ukraine is an eastern flank, and today these flanks have become even closer to each other which means that Europe has become stronger today," Kuleba said.
As reported, President Volodymyr Zelensky makes a state visit to the United Kingdom on October 7-8.
ol