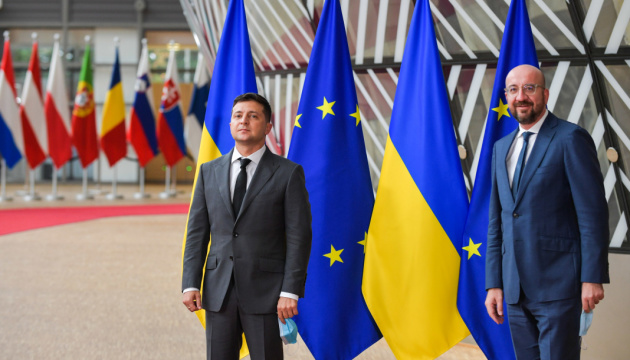 Zelensky says Ukraine confidently moving towards EU membership
The EU-Ukraine summit has proved that Ukraine is an interesting, promising and responsible country that is not afraid of any challenges and is confidently moving towards full membership in the European Union, according to President Volodymyr Zelensky.
"You know, it was really a good summit. Everything is clear, in a partnership manner, with great mutual respect and interest. Because we are interesting, promising, responsible. We are not afraid of any challenges. And we can keep our word," he wrote on his Facebook page.
According to him, everything was so clear at the summit that "someone had to create an alternative 'picture' on their TV channels so as not to get lost in the background of real and positive news from Brussels."
Zelensky said that Ukraine is confidently moving towards full membership in the European Union.
"And this is the main result of our meetings in Brussels. Membership is not an end in itself, but the recognition of our values. Ukraine has already outgrown the current Association Agreement and seeks its renewal. It seeks greater ambitions and depth. And yes, we received a positive response from the European Union," he said.
According to Zelensky, Ukraine will also receive "an industrial visa-free regime" (the Agreement on Conformity Assessment and Acceptance of Industrial Products), which will provide even more opportunities for exports, i.e. more markets, competitive opportunities, jobs and technology. The relevant expert mission has already started its work.
In addition, the president noted, Ukraine will receive "open skies." "After seven years of various manipulations, we finally have a clear understanding that the Common Aviation Area Agreement will be signed in the near future. These are millions of opportunities for easier travel and business contacts. Of course, after the pandemic," he said.
According to Zelensky, the EU has confirmed that it will help Ukraine get the coronavirus vaccine when it appears.
He stressed that the results of the summit had completely removed all artificial fears about visa-free travel for Ukrainians. "Many programs, headlines and posts about a 'threat' to visa-free travel were a complete lie, and we confirmed this once again - at the highest level," he said.
According to Zelensky, the European Union also supported the activity of the Ukrainian side in the negotiations in the Normandy format and in the Trilateral Contact Group. "All aspects of these talks are quite clear to our European friends. All the wording in the summit documents is one hundred percent pro-Ukrainian," he said.
The 22nd EU-Ukraine summit took place in Brussels on October 6.
op