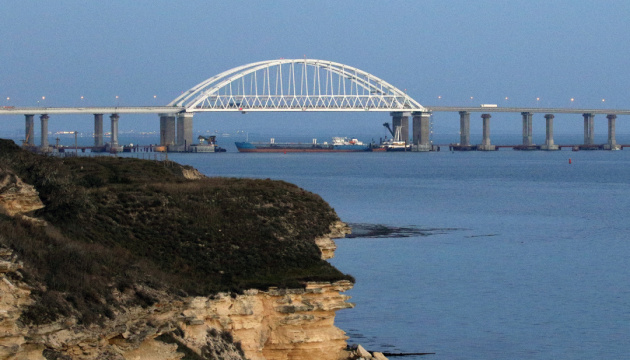 UK expands sanctions over Kerch Bridge construction
The United Kingdom has imposed sanctions on two individuals and four legal entities involved in building the Kerch Bridge linking Russia and the occupied Crimea.
A corresponding notice was released on the website of the Office of Financial Sanctions Implementation, part of Her Majesty's Treasury.
The sanctions were imposed on Alexander Ganov, General director of the JSC TC Grand Service Express which operates railway service between Russia and the illegally annexed Crimean peninsula, and Leonid Ryzhenkin, Deputy general director for infrastructure projects at Stroigazmontazh (SGM) who since 2015 had supervised the construction of the bridge over the Kerch Strait.
In addition, four legal entities – Federal State Unitary Enterprise "Crimea Railway", First Crimean Insurance Company, Joint-stock company "Lenpromtransproyekt", Joint-stock company "The Berkakit-Tommot-Yakutsk Railway Line's Construction Directorate" - were added to the consolidated sanctions list.
These two individuals and four legal entities are now subject to an asset freeze in the territory of the United Kingdom of Great Britain and Northern Ireland.
As noted, failure to comply with financial sanctions legislation or to seek to circumvent its provisions is a criminal offence.
On 15 May 2018, the Russian Federation opened the vehicle section of the Kerch Bridge, and the railway part opened on 23 December 2019.
As reported, the European Council added two individuals and four entities to the list of those individuals and entities subject to restrictive measures in respect of actions undermining or threatening the territorial integrity, sovereignty and independence of Ukraine.
ol