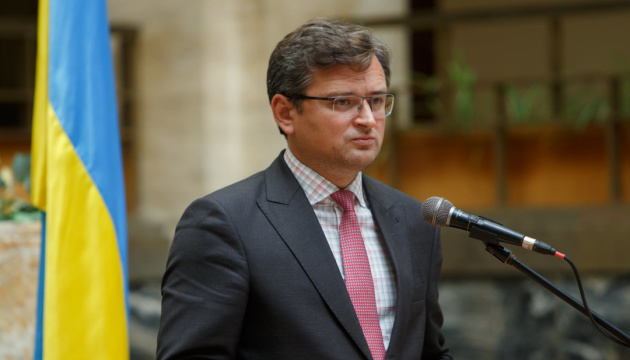 FM Kuleba: Ukraine ready to join EU sanctions against Belarus
Ukraine plans to join European Union sanctions against Belarus officials.
"I want to look at the final legal decision on persons on this list. But yes, we are determined to join these sanctions as there is an issue of policy coherence," Minister of Foreign Affairs of Ukraine Dmytro Kuleba said in an interview with BBC News Ukraine.
"Ukraine believes that it is important to act as a united front in this situation. We do everything we can to help the people of Belarus in this difficult situation," Kuleba explained.
He noted that the cost of such solidarity for Ukraine is much higher than for EU or NATO because Ukraine is not under the "umbrella of protection" of these associations and the expansion of Russia's influence in Belarus threatens Ukrainian security.
At the same time, the foreign minister emphasizes that Ukraine plans to join the sanctions against certain Belarus officials. Kyiv does not plan to impose any economic sanctions or restrict trade.
"As for economic cooperation, we do not plan to attack. We do not plan to make things even worse for Belarus, we wish them only good. We do not plan to impose embargo or any trade restrictions," Kuleba said.
According to him, Belarus-Ukraine trade is mutually beneficial, so the introduction of trade sanctions by Ukraine or Belarus - in response - will not be a reasonable step.
However, this stance may change if Russia establishes control over Belarusian enterprises.
"That's when we need to sit down and analyze every big contract, see if some additional risks emerge because we have large-scale cooperation in the military and trade sector," the minister explained.
"I see no reason to sever diplomatic relations or to reduce Ukraine's presence in Belarus to the level of chargé d'affaires as we did with Russia," the minister said.
On October 1, the European Union imposed sanctions on 40 Belarus officials. Alexander Lukashenko is not on the list.
President of France Emmanuel Macron explained that imposition of sanctions on Alexander Lukashenko could undermine efforts to involve him in the negotiation process. If Lukashenko fails to establish a dialogue with his own people, sanctions against him may be imposed in the future, Macron warned.
On September 23, foreign minister Kuleba announced that Ukraine did not recognize Alexander Lukashenko as a legitimate president of Belarus and did not recognize his inauguration as legitimate.
ol