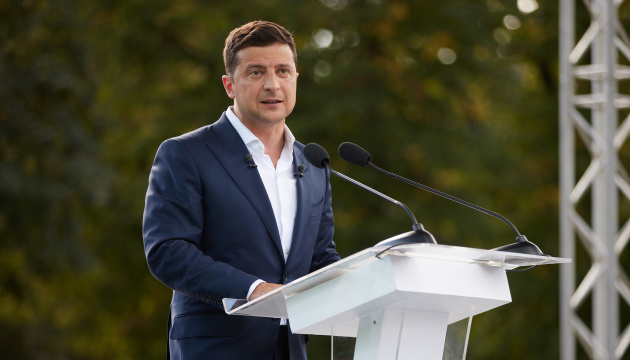 Zelensky seeks to give new impetus to Ukraine-China cooperation
President Volodymyr Zelensky seeks to give a new impetus to Ukraine-China cooperation and has invited the President of the People's Republic of China to Ukraine.
"It is time to give new impetus to our dialogue. I think that we need to resume a full-fledged political dialogue between our states for that. We need to restore the dynamics of bilateral contacts at the level of ministries and agencies, at the level of heads of government, parliament and, of course, leaders. I will be glad to welcome Chinese President Xi Jinping to Ukraine. It would be a great honor for me to visit charming China," Zelensky said in an interview with Xinhua News Agency, Ukrinform reports with reference to the Presidential press service.
China has always been and remains among the priorities of Ukrainian foreign policy, Zelensky stressed.
According to him, Ukraine and China should work together to develop "a new strategy, a new vision, new points of growth."
The President of Ukraine is convinced that next meeting of the Intergovernmental Commission on Cooperation will facilitate the implementation of the new strategy and assured that both sides were actively working on its organization.
"Credit and investment, agro-industrial, machine-building, and transport sectors should be mentioned among the priority areas of practical cooperation. Ukraine has significant scientific and educational potential, rich culture. This provides good opportunities for increasing trade and economic cooperation, intensifying bilateral humanitarian contacts and exchanges," the President said.
It is important not only to increase trade but also to diversify goods, increase high-tech products and products with high added value, Zelensky added.
"Ukraine has a significant potential for cooperation with China in various fields, commensurate or even greater than in many other Eastern European countries. We are interested in the successful implementation of this potential," Ukraine's Head of State stressed.
At the same time, Zelensky reminded that Ukraine was one of the first countries to support China's Belt and Road Initiative and stressed that Ukraine "has a unique geographical location, the necessary economic and industrial potential for effective participation in this project."
ol