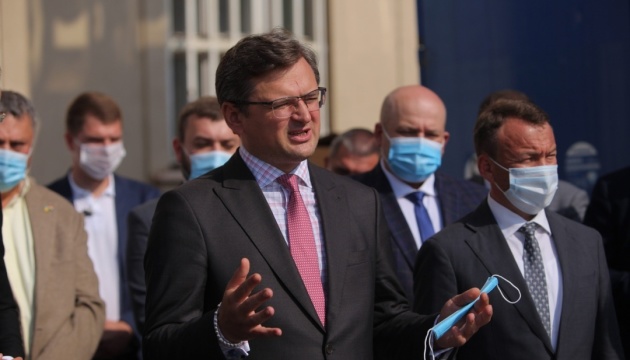 Kuleba voices Ukraine's position on Nagorno-Karabakh conflict
Ukraine calls on the parties to the conflict in Nagorno-Karabakh not to stir up additional emotions and to settle the conflict in compliance with the principle of the territorial integrity of states.
Ukrainian Foreign Minister Dmytro Kuleba said this during an online briefing on September 30, an Ukrinform correspondent reports.
"We are all closely watching the development of these events [in Nagorno-Karabakh] ... A war is always grief, victims, destruction ... In our opinion, the main thing in the Caucasus now is not to stir up the already very high emotions.... One of the cornerstones of Ukrainian foreign policy is support for the territorial integrity of states. We have consistently supported the territorial integrity of Azerbaijan, just as Azerbaijan supported our territorial integrity within the internationally recognized borders, and this principle remains absolutely unchanged for us," Kuleba said.
He added that Ukraine continues to monitor the conflict in Nagorno-Karabakh and is negotiating with partners to have a coordinated position.
According to Kuleba, the current situation in Nagorno-Karabakh eloquently testifies to the fact that the so-called frozen conflicts are not actually frozen at all and can "explode" at any moment.
The minister also noted that he instructed the embassies of Ukraine in Azerbaijan and Armenia to provide maximum assistance to Ukrainian citizens staying in these countries, and promptly respond to any problem situations.
As Ukrinform reported, Armenia and Azerbaijan resumed hostilities in Nagorno-Karabakh on the morning of September 27, mutually accusing each other of shelling the border areas and provoking violence. Both countries introduced martial law and total mobilization.
On September 27, the Ukrainian Foreign Ministry expressed concern over the escalation of the Nagorno-Karabakh conflict and called on the parties to make every possible effort to return to the negotiating table.
ish