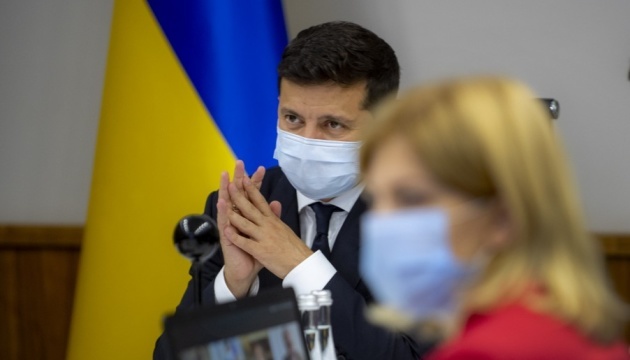 Zelensky: Ukraine's movement towards EU even more relevant than before
President of Ukraine Volodymyr Zelensky emphasizes that today Ukraine's movement towards the European Union is even more relevant than before.
"Given the challenges that exist today, the immutable movement towards Europe, the European Union is even more relevant for Ukraine than before. Today, the support of the European Union is very important for Ukraine," President of Ukraine Volodymyr Zelensky said during a video conference with members of the European Parliament, the press service of the Head of State reports.
The President thanked for the consistent support of the European Parliament in advancing the ambitious Ukraine-EU agenda, as well as for the firm position of the European Union legislature on restoring the sovereignty and territorial integrity of Ukraine and the de-occupation of Crimea.
The President reminded that the next EU-Ukraine Summit is expected in a week, and expressed hope that it would be successful.
The President informed of Ukraine's initiative to create an international platform designed to improve coordination and cooperation in order to counter the security threats posed by the Russian occupation of Crimea, as well as to promote the protection of the rights of Crimeans.
"Apart from the economy and money, geopolitical support is important for us. Some of the things we want to pay attention to are the appearance and our proposal of the Crimean platform. A platform where we want to discuss the most important humanitarian issues, the issue of assistance to all Ukrainians - both Crimean Tatars and Ukrainians who have been imprisoned both in Crimea and in Russia. This is the return, release of these citizens, as well as the de-occupation of Crimea," the President said.
Also, according to Volodymyr Zelensky, Ukraine seeks to discuss expanding access to the EU internal market, reaching an agreement on renewing the trade part of the Association Agreement, signing of the Agreement on Conformity Assessment and Acceptance of Industrial Products and other issues.
"We see a reorientation of Ukrainian business to European countries. This is great, so we want to talk about expansion. We want to have the opportunity for economic growth in our country," the President said, noting that this is especially important now, given the coronavirus pandemic and the war.
Among other things, the participants of the video conference discussed the construction of a memorial complex-museum, as the working group of the European Parliament "Memory for the Future" seeks to achieve the allocation of funds by the European Union to finance the pilot project "Voices: Holocaust Testimony from Ukraine".
The video conference was attended by MEPs representing various political groups in the European Parliament, including Michael Gahler (Germany), Petras Auštrevičius (Lithuania), Niclas Herbst (Germany), Frédérique Ries (Belgium), Elżbieta Łukacijewska (Poland) and Włodzimierz Cimoszewicz (Poland).
ol