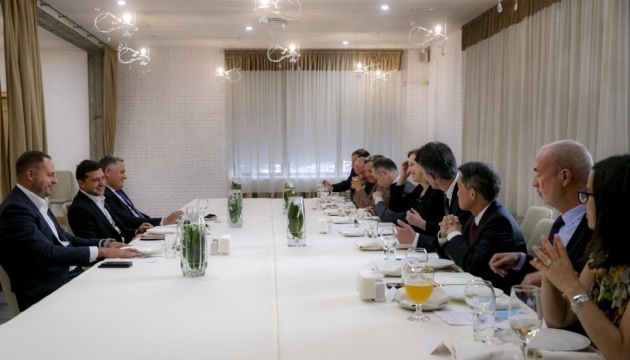 Zelensky meets with G7 and EU ambassadors
President of Ukraine Volodymyr Zelensky met with G7 and EU ambassadors during his working trip to Mykolayiv region on September 23.
"Support from your countries and the EU is crucial for Ukraine. That is why I want to constantly maintain this dialogue in order to hear you and share my vision of political life and strategy of further changes in the country," Zelensky said, the press service of the Head of State reports.
He noted that he was pleased to hold the meeting during the Joint Efforts 2020 exercises which he considered important in the context of Ukraine's NATO EOP status.
The President informed the ambassadors about the progress and prospects of key reforms, the situation around anti-corruption bodies, the NBU, about the preparations for the local elections and assured of the unalterability of country's course.
"The European choice is unalterable for our country. It forms the agenda of political and economic transformations in Ukraine," he said.
Regarding the country's economic prospects, Zelensky noted that the Government sought to lay the foundation for sustainable dynamic development of Ukraine, job creation, modernization of infrastructure, restoration of the industrial and production capacities, and investment attraction.
"Currently, the efforts of the Government and the Verkhovna Rada are aimed at supporting the economy during the crisis, attracting investment and modernizing the industries in which Ukraine retains its potential. We are interested in foreign investment and are working to create comfortable working conditions for investors. My priority is to systematically improve the investment climate," he said.
The President also noted that he advocated maintaining the independence of the National Bank of Ukraine and paid attention to continuing the banking sector reform.
As Zelensky noted, the independence of anti-corruption bodies is also important and all procedures for selecting members of competition commissions and competitions to appoint the heads of anti-corruption bodies, including the National Anti-Corruption Bureau and the Specialized Anti-Corruption Prosecutor's Office, should be conducted in accordance with the law, transparently and under public control.
"As a guarantor of the Constitution, I am ready to defend and ensure the independence and transparency of activities of the National Anti-Corruption Bureau, the Specialized Anti-Corruption Prosecutor's Office, and the High Anti-Corruption Court. At the same time, I will demand to enforce the right of Ukrainian citizens to see the effective work of these bodies," Zelensky said.
September 23, President Zelensky made a working trip to Mykolayiv region, where he got acquainted with the course of the Joint Efforts 2020 strategic command and staff exercises.
ol