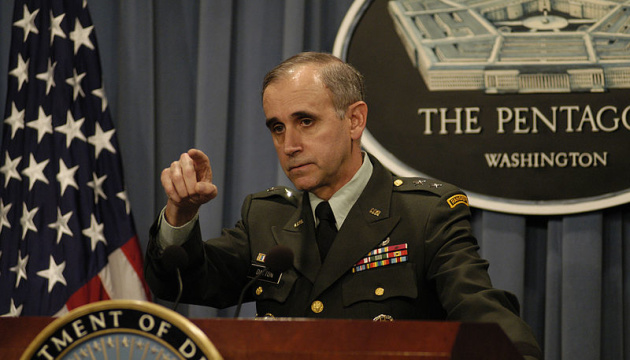 US Senate Committee supports Dayton's nomination as ambassador to Ukraine
The US Senate Committee on Foreign Relations supported Keith Dayton's nomination as US ambassador to Ukraine and recommended the upper house of the Congress to approve it.
The Committee hearing was held on Tuesday, an Ukrinform correspondent reports.
"I am glad that the Committee has approved fifteen nominations (for various positions) this morning. I am particularly pleased to send nominations for the posts of ambassadors to Japan and Ukraine to the Senate for approval," US Senate Foreign Relations Committee Chairman Jim Risch said.
He underscored that the positions of ambassadors in the two countries "play a vital role in shaping US foreign policy," expressing confidence that Keith Dayton's nomination "will soon be approved" by the upper house of the US Congress.
As reported, U.S. President Donald Trump nominated Keith Dayton for the post of U.S. Ambassador to Ukraine in early May 2020.
Keith W. Dayton currently serves as the Director of the George C. Marshall Center in Garmisch, Germany, a position he has held since 2010. He also serves concurrently as Senior U.S. Defense Advisor to Ukraine, an adjunct duty to his position as Marshall Center Director. This follows a four-decade career in the United States Army from which he honorably retired in 2010 with the rank of Lieutenant General. Among his many assignments, Lt. General Dayton was the U.S. Security Coordinator Israel/Palestinian Authority; Director of Strategy, Plans and Policy, Army Staff, the Pentagon, and Director of Operations for the Defense Intelligence Agency, including as Director of the Iraq Survey Group looking for weapons of mass destruction in Iraq.
The hearings of the US Senate Foreign Relations Committee on Keith Dayton's nomination were held on August 5. Dayton confirmed his awareness of the current situation in Donbas, pledged to combat the harmful influence of Russia, and highlighted the need for the United States to preserve Ukraine's territorial integrity.
ol