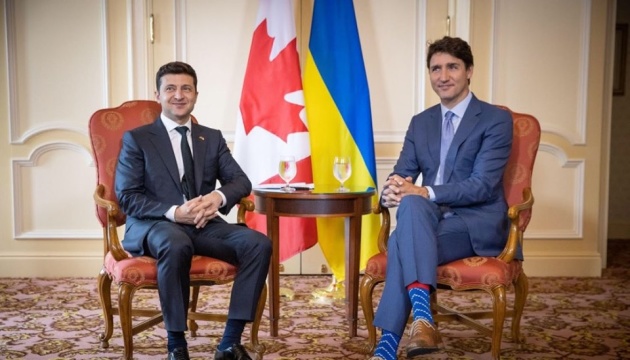 Zelensky, Trudeau discuss possible Canada's visa liberalization for Ukrainians
President of Ukraine Volodymyr Zelensky hopes for progress in Canada's gradual visa liberalization for Ukrainian citizens.
"Canada's visa liberalization for Ukrainians remains a topical issue for me. I hope we will be able to move this process forward and achieve simplification for Ukrainians traveling to Canada," Zelensky said in a phone conversation with Prime Minister of Canada Justin Trudeau, the President's press service informs.
The parties also discussed the possibility of coordinating measures taken by both countries to overcome coronavirus consequences. The President of Ukraine and the Prime Minister of Canada called for the removal of artificial barriers to the development of international trade to support national economies weakened by the pandemic, as well as to ensure access of all countries to the necessary medical products.
"I express my sincere support to your government and to all Canadians in the fight against coronavirus. I would like to express deep condolences to the relatives and friends of the deceased and wish the sick a speedy recovery," Volodymyr Zelensky said.
In addition, the President of Ukraine informed PM Trudeau of the situation in Donbas and Ukraine's consistent steps towards a peaceful settlement.
"Achieving peace in Donbas remains a key priority for me. I am grateful for Canada's strong support for the sovereignty and territorial integrity of our state," Zelensky said.
The parties also exchanged views on the current situation in Belarus.
Volodymyr Zelensky and Justin Trudeau also discussed the progress of reforms in Ukraine. The Prime Minister of Canada called the steps taken by the President of Ukraine to reform the state courageous and expressed support.
ol