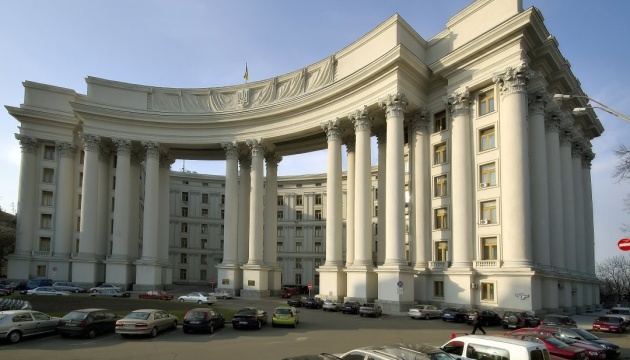 Ukraine demands explanations from Russia over statement about Normandy summit
The Ukrainian Foreign Ministry has demanded that Russia provide explanations about a statement made by Russian Deputy Foreign Minister Andrei Rudenko that President Volodymyr Zelensky's words about the readiness of all parties to hold the Normandy Four summit were not true.
According to a comment posted on the ministry's website, while on an official visit to Austria, Zelensky spoke not about the specific date for holding the next Normandy Four summit, but about the fundamental readiness of its participants to meet.
In this context, the Ukrainian Foreign Ministry stressed that Ukraine, like other participants in the Normandy format, is interested in the next Normandy Four summit confirming the implementation of the Paris summit agreements and being as productive as possible in terms of achieving future progress in the peaceful settlement of the international armed conflict in Donbas.
"If Andrei Rudenko's statement is a clear signal that the Kremlin is not fundamentally interested in the N4 summit, this calls into question the determinedness of the Russian Federation to settle the conflict. It is obvious that today's insufficiently diplomatic and somewhat emotional comment by the Russian deputy foreign minister requires additional explanations of the position of the Russian side both to participants in the Normandy format and to the international community," the Ukrainian Foreign Ministry said.
Earlier, Rudenko told RIA Novosti that Russian Presidential Executive Office deputy head Dmitry Kozak clearly stated at a meeting of advisers and political advisers in Berlin on September 11 that there were currently no grounds for holding a new Normandy Four summit.
op