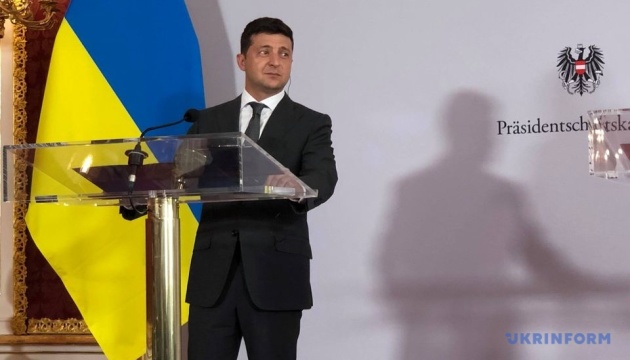 Zelensky says it's too early to talk about Ukrainian-Russian 'relations'
Ukrainian President Volodymyr Zelensky has said that "relations" between Ukraine and Russia ended after the Russian Federation annexed Crimea and started the war in Donbas, and it is too early to talk about their restoration.
He said this at a joint press conference with President of Austria Alexander Van der Bellen in Vienna on Tuesday, September 15, according to an Ukrinform correspondent.
"In your question, there was a phrase 'what kind of relations' [with Russia]. Unfortunately, we lost this phrase and we lost the meaning of this phrase […] after Russia illegally annexed Crimea and the war began in the east of the country," Zelensky said.
According to him, before that Ukraine and Russia had "excellent relations", when "they always said: brothers and sisters."
"And today there are 14,000 dead, and today there are no two territories of our independent country. So I have not yet found the words as to what exists between us. But I want to tell you frankly: we began to say what led in one way or another to a ceasefire regime. Yes, it is more complicated than we thought, but it exists. And we were able to get 140 captives back home. I think this is the beginning of a dialogue. As for relations, I think it's still too early to talk about them," he said.
Zelensky is on an official visit to Austria on September 15-16.
op