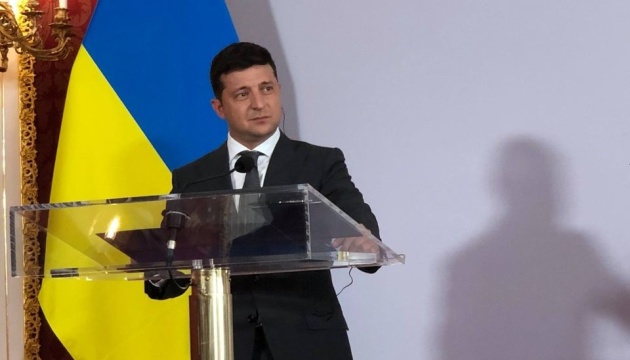 Belarusian authorities should enter into dialogue with people - Zelensky
Ukrainian President Volodymyr Zelensky has said that the Belarusian authorities should enter into dialogue with protesters, and Alexander Lukashenko should hear the people.
Zelensky stated this at a joint press conference with Austrian President Alexander Van der Bellen in Vienna on Tuesday, September 15, according to an Ukrinform correspondent.
"It seems to me that the Belarusian government must find a way in any case, enter into dialogue with people, those who elected them, who made them officials or presidents," he said.
Zelensky said that Ukraine is not indifferent to what is happening now in Belarus and recalled that from the very beginning the Ukrainian authorities drew the attention of the Belarusian authorities to the fact that bloodshed should not be allowed in any case.
"Ukraine does not want to interfere in the domestic policy of Belarus. I am convinced that the same should be done by any countries the intervention of which we sometimes hear from various media. But we must do everything so that no one is hurt, so that no one dies. I believe that Mr. Lukashenko should still find such words and hear the people. That's very important," Zelensky said.
On September 15, the Verkhovna Rada adopted a statement on the situation in Belarus, stating that the presidential election in the country was neither free nor fair. Ukrainian MPs also condemned the use of excessive force and cruelty by the law enforcement agencies of Belarus.
Zelensky is on an official visit to Austria on September 15-16.
op