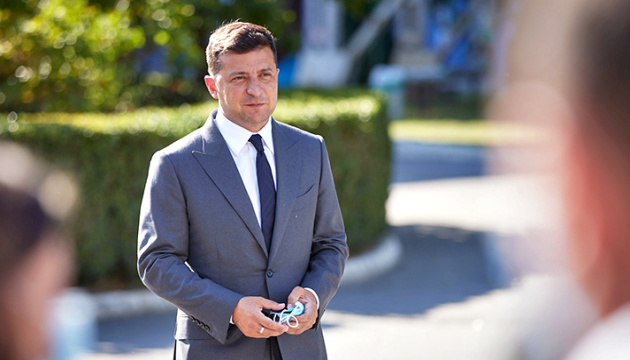 Zelensky says return of territories a major priority for him
Ukrainian President Volodymyr Zelensky has said that the main priority for him is the end of the war in Donbas and the return of Ukrainian territories.
The head of state said this in an interview with Austrian government newspaper Wiener Zeitung, according to Ukrinform.
"When I promise something, these are not just empty words. Ending the war and getting the Ukrainian territories back - that's my top priority. These are not romantic promises," Zelensky said, commenting on his campaign promises and their implementation after the election.
At the same time, he acknowledged that "it's not easy" to fulfill these promises.
"But we have already achieved a lot. We got 140 people back from captivity. We conducted the disengagement of troops. Shots are no longer fired there, almost no one is killed. Except for one death, there have been no losses for seven weeks. Everyone sees that, and Europe sees that too. Sometimes there is shelling from separatists. But we don't respond to it, and that's a good thing," Wiener Zeitung quoted Zelensky as saying.
Zelensky also noted that a humanitarian catastrophe is currently observed in non-government-controlled areas in Donbas, and many people have contracted coronavirus.
"The people who live in the occupied part of Donbas can see how the Ukrainians live on the other side of the front – they live better. The miners in the occupied Donbas are doing badly: They don't get normal wages and have to pay high prices for water and electricity. If the people there run out of patience at some point, there can also be riots," Zelensky said.
According to him, an internal conflict in the occupied Donbas is possible, because people live badly, and there are many people with pro-Ukrainian views there.
Zelensky will pay an official visit to Austria on September 15-16.
During the visit, the president is scheduled to hold talks with President Alexander Van der Bellen, Chancellor Sebastian Kurz and President of the National Council (Parliament) Wolfgang Sobotka.
op