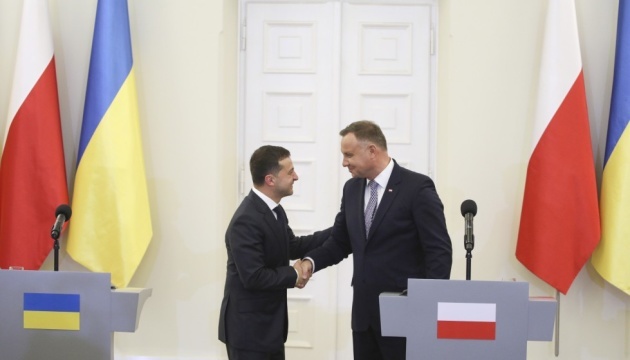 Zelensky, Duda discuss situation in Donbas
Ukrainian President Volodymyr Zelensky has held a phone conversation with Polish President Andrzej Duda, the press service of the head of the Ukrainian state has reported.
Zelensky briefed Duda on the current security situation in Donbas and Ukraine's efforts to ensure lasting peace. Zelensky thanked Warsaw and personally Duda for their firm support of the sovereignty and territorial integrity of Ukraine.
"You should know that there, in Donbas, live people who really want peace and who appreciate the efforts to achieve it. Advisers to the leaders of the Normandy Four countries are meeting in Berlin today. I hope that the meeting of the leaders of the Normandy Four countries will take place soon," Zelensky said.
The two countries' presidents also discussed the inclusion of the grave of UPA soldiers on Mount Monastyr near the Polish village of Werchrata in the register of military burial sites.
"The President of Ukraine raised the issue of historical memory, namely the inclusion in the register of military burial sites and the restoration of a legal Ukrainian grave on Mount Monastyr near the village of Werchrata. The President of Poland said he hoped that the issue would be removed from the agenda," the President's Office said.
According to the report, both sides agreed on the importance of maintaining the traditionally high dynamics of the bilateral political dialogue. Duda gratefully accepted Zelensky's invitation to pay a visit to Ukraine in October this year, the report said.
The heads of state also exchanged views on the development of the situation in Belarus. Zelensky said that Ukraine and the European Union had common approaches in assessing the domestic political crisis in the neighboring country.
In addition, Zelensky and Duda discussed steps aimed at counteracting the spread of the coronavirus and minimizing the impact of the pandemic on citizens of Ukraine and Poland. In this context, Zelensky thanked Duda for the practical assistance provided by the Polish side.
Earlier, Jan Hofmokl, Director at the Eastern Division of the Polish Foreign Ministry, said at the Economic Forum in Karpacz, Poland, that Duda would visit Ukraine on October 12-13.
In January 2020, on Mount Monastyr, near the village of Werchrata in the Podkarpackie Voivodeship of Poland, near the border with Ukraine, vandals finally destroyed a memorial plaque on the grave of UPA soldiers, which was damaged in 2015. This is the burial site of 62 soldiers - residents of surrounding villages who died in the woods on March 2-3, 1945 in a battle with the NKVD.
op