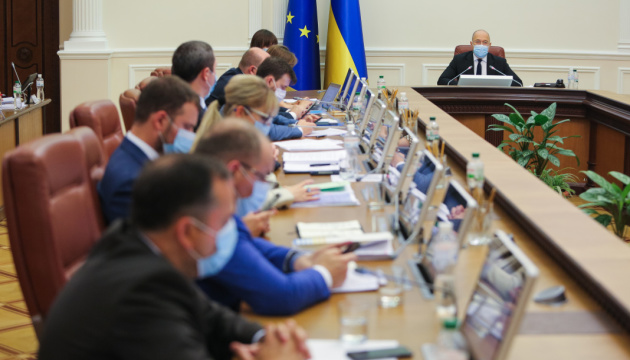 Cabinet of Ministers approves priority action plan for 2020
The Cabinet of Ministers of Ukraine has approved a draft decree on the approval of the Government Priority Action Plan for 2020.
The decision was made at a government meeting on Wednesday, September 9, according to the Government portal.
"The document is fundamental. It contains 690 items, each of which has justifications of its importance, responsible officers, deadline, performance indicator and expected results. That is, it is a document that will guide the ministries in their daily activities," Prime Minister Denys Shmyhal said.
According to the PM, the document will ensure progress in the implementation of the government's action program, which was approved by the Cabinet of Ministers almost six months ago.
Shmyhal noted the following points of the action plan:
• cooperation with the European Union on "industrial visa-free regime" and updating of the Association Agreement. Submission of more than 30 European integration bills within the framework of the government's "Road to Europe" program;
• development of a draft law on a free economic zone for the IT industry;
• a six-month extension after the end of the quarantine of the moratorium on state control and business inspection;
• support for exports through updates of the relevant agency;
• establishment of the fund for development of rural areas;
• introduction of incentives for young families who want to start farming;
• introduction of a "zero declaration", inter alia, capital amnesty;
• completion of the liquidation of the State Fiscal Service, as well as providing conditions for the creation of a new effective body that will investigate economic crimes;
• comprehensive customs reform (open online database of the value of goods, reduction of the subjective influence of customs officer on all procedures);
• installation of more than 50 automatic weighing systems on roads to prevent their destruction;
• final liquidation of the source of corruption - the State Architectural and Construction Inspectorate of Ukraine and digitalization of licensing procedures in construction;
• sale of subsoil use permits exclusively through open online auctions;
• development of a draft law on the defined contribution pension system.
According to the Prime Minister, the Secretariat of the Cabinet of Ministers will closely monitor the implementation of the action plan.
ish