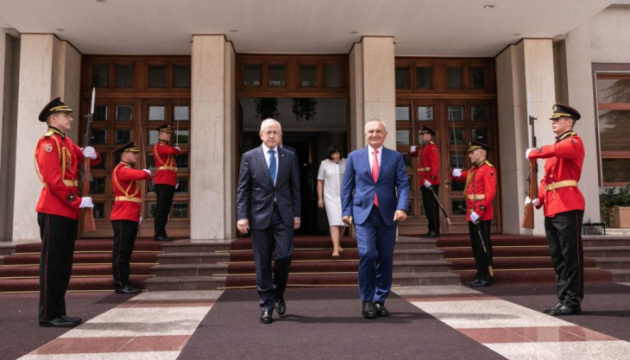 Ukraine opens embassy in Albania
Ukraine has opened an embassy in Albania, where Ambassador Volodymyr Shkurov has already begun his diplomatic mission, the Ukrainian Foreign Ministry's press service has reported.
According to the report, on September 1, Shkurov presented his credentials to President of Albania Ilir Meta.
"The opening of the embassy is a historic event for both Ukraine and Albania, which will allow us to fully realize the potential of our bilateral relations," Shkurov said.
According to the report, Shkurov thanked the Albanian side for its unequivocal support in countering Russian aggression.
Meta, in turn, reaffirmed the position of the Albanian side in support of the sovereignty and territorial integrity of Ukraine.
Both parties discussed cooperation in international organizations, the development of the political dialogue, tourism, the strengthening of economic cooperation, and people-to-people contacts.
Meta also invited Ukrainian President Volodymyr Zelensky to pay an official visit to Albania.
Diplomatic relations between Ukraine and Albania were established on January 13, 1993, the Ukrainian Foreign Ministry said.
On July 2, 2020, the newly appointed Charge d'Affaires of Albania in Ukraine, Fation Peni, presented a diplomatic note from the Albanian side on the opening of the Albanian diplomatic mission in Ukraine.
According to the State Statistics Service of Ukraine, gross foreign trade (in goods and services) between Ukraine and Albania amounted to almost $22 million in the first nine months of 2019 and increased by $3 million, or 15.8%, compared to the same period of 2018. Exports amounted to about $19.8 million, and imports amounted to $2.2 million. The surplus for Ukraine was $17.6 million.
op