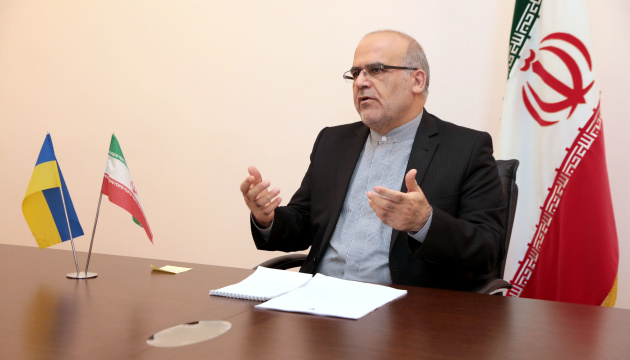 Iran proposes holding second round of talks on UIA plane between Oct 18 and 21 - ambassador
Iran has offered Ukraine to hold a second round of talks in Tehran between October 18 and 21 on compensation for the downing of Ukraine International Airlines (UIA) Flight PS752, Iranian Ambassador to Ukraine Manouchehr Moradi has said in an interview with Ukrinform.
"According to the agreement reached, the next round of talks will take place in Tehran in October. A few days ago [the interview was given on August 20], the Iranian side handed a note over to the Embassy of Ukraine in Tehran and proposed a period from October 18 to 21 for the second round of talks. [...] At the moment, we are waiting for a response from the Ukrainian side regarding the proposed period," the diplomat said.
According to him, expert meetings of committees will take place in the first two days, and then the two countries' deputy foreign ministers will discuss the results of the meetings.
Moradi praised the first round of talks.
"In my opinion, their results even exceeded our expectations. Therefore, I am also optimistic about the second round of talks and I am confident that thanks to the goodwill of the parties we will achieve very good results," the Iranian ambassador said.
On January 8, 2020, Ukraine International Airlines Flight PS752 was shot down near Tehran by an Iranian surface-to-air missile, killing 176 people, including nine crew members (all Ukrainians) and 167 passengers (citizens of Ukraine, Iran, Canada, Sweden, Afghanistan, Germany, and the UK).
On July 18, France's Civil Aviation Safety Investigation Authority (BEA) received Flight PS752's recorders from Iran. Ukraine's Deputy Prosecutor General Yevhen Yenin said later that the transcript from Flight PS752's recorders had confirmed illegal interference with the plane.
Negotiations on compensation for the downing of Flight PS752 took place in Kyiv on July 30 with the participation of the Iranian delegation.
Ukraine's Prosecutor General's Office announced on July 31 that the next round of talks with Iran on the investigation into the plane crash was scheduled for October.
op