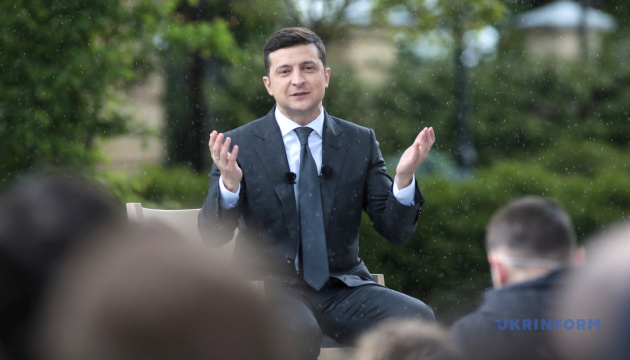 Zelensky: Ukraine extremely interested in democratic and stable Belarus
Ukraine is extremely interested in Belarus being a truly independent and democratic country with a strong economy and stable social relations.
"Ukraine and I personally are extremely interested in Belarus being a truly independent and democratic country with a strong economy and stable social relations. Belarus is our closest neighbor, so we do care about what is happening there and what will happen to our friends," President of Ukraine Volodymyr Zelensky posted on Facebook on Monday, August 10.
Our Belarusian neighbors are going through difficult times, he noted.
According to the President, it is already obvious that not everyone in the country agrees with the announced preliminary election results, and any legitimacy arises solely from public trust.
"Such a scale of doubts is a direct path to violence, to conflict, to growing public protest. Unfortunately, it's what we see now," Zelensky stressed.
In this context, he called on Belarus residents to be tolerant and stop violence in the streets.
"We call for the most open, albeit complex, dialogue. Only a broad dialogue will give the citizens of the Republic of Belarus a way out of a difficult crisis situation and help them honestly discuss further steps and formats of public interaction. Only mutual understanding between all parties can preserve the country's independence and ensure its further movement towards freedom and democracy. Otherwise, the escalation of violence will increase, posing a threat of bitter consequences," the President of Ukraine warned.
According to him, now both the government and protesters should be interested in such a dialogue.
"In its actions, Belarus must adhere to the democratic standards recognized in the civilized world and try to ensure a comprehensive enforcement of the rights and freedoms of its citizens. This is the only way to preserve the hope of overcoming the crisis," Zelensky is convinced.
The presidential election took place in Belarus on Sunday, August 9. Five people ran for the president: Svetlana Tikhanovskaya, wife of jailed opposition blogger Sergei Tikhanovskiy; ex-MP Anna Kanopatskaya; leader of the Tell the Truth campaign Andrey Dmytriyev; chairman of the Belarusian Social Democratic Hramada party Sergei Cherechen; and incumbent President of Belarus Alexander Lukashenko who has ruled the country since 1994.
According to the Central Election Commission of Belarus, Lukashenko garnered the most votes at the polling stations that had already provided the election results.
The Viasna Human Rights Centre reported that more than 140 people had been detained by security forces during protests in various parts of Belarus as of 03:00 on August 10.
The websites of some Belarusian media outlets, such as BelTA or TUT.by, are not currently working.
ol