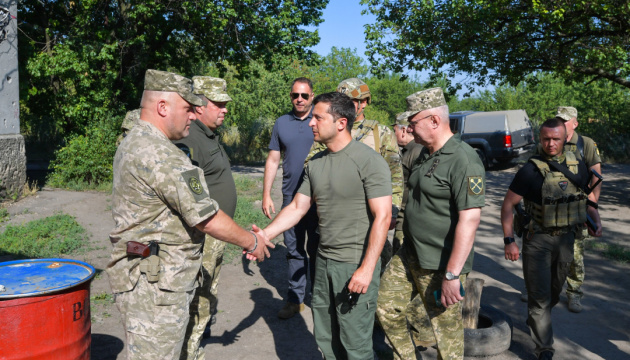 Zelensky: Ukraine's goal is peace, return of people and territories
The Ukrainian authorities will never become exhausted in their strive for peace and the return of Ukrainian people and territories, President Volodymyr Zelensky has said.
The head of state said this during his visit to the area of the Joint Forces Operation in Donbas on Friday, August 7, the presidential press service reported.
Zelensky said that peace is the key to ensuring economic growth and improving the quality of life of all Ukrainians.
"Nobody is going to surrender anything. We have a strong, powerful army. We respect it. That is why we are fighting for Ukraine. We are fighting for such heroes so that they return alive," he said.
Zelensky also said that one of the ways to peace, along with negotiations in the Normandy and Minsk formats, was the constant and persistent strengthening of the Ukrainian Armed Forces.
Andriy Ordynovych, a representative of the Joint Center for Control and Coordination (JCCC), confirmed that despite some provocations from Russian-backed forces during the truce, the Ukrainian military are in a good mood and they are ready to fight. "While talking to them, I would say that everyone is determined to defend the state and get peace as soon as possible," he said.
Separately, Zelensky visited the city of Marinka in the Donetsk region, close to the front line, and talked to its residents. They said that with no hostilities, the city is gradually reviving: people with children are returning, and many local residents are beginning to repair their homes. At the same time, people complained about the lack of natural gas and water supply.
Chairman of the Donetsk Regional State Administration and Head of the Regional Military and Civil Administration Pavlo Kyrylenko promised that with the onset of peace in the city, it would be possible to safely begin construction work to solve this problem. He said that under such conditions, natural gas and water supply could be resumed within six months.
Zelensky also asked the leadership of the region and the city to start restoring the city's infrastructure, including roads, as soon as possible.
Photo credit: President's Office
op